I may be a little late on this one, but when we saw the E3 TV trailer for Sonic Boom, A small and a bit unclear screenshot of that trailer was found on the Sonic Stadium's website. Take a look.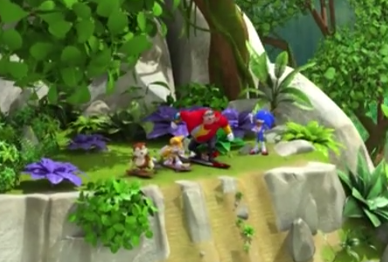 It shows a mountain, where Sonic, Tails, Eggman, and another character that looks like a Chipmunk, or a Squirrel, or Tails from 
The Adventures of Sonic the Hedgehog, 
or the dreaded 
Tails Doll
. (Yes, the possibilities are endless.)
I've a hunch that one of these episodes will show these three having a race, with Sonic as the referee. But getting straight to the point... WHO IS THE CHARACTER NEXT TO TAILS?
I mean, he could be a minor character too y'know.
-Blazing Flare