We got several updates, some known and some unknown.
Tokyo Game Show updates
There are several photos from the TGS event here .
Rise of Lyric release date
NEWS FLASH: The release date for Rise of Lyric has changed to November 11 2014 for North America. This means that the game will release on the same day as Shattered Crystal. Why SEGA made this change is unknown, but now gamers will have to decide what to get first.
New Level plus Gameplay
The Tokyo Gameshow revealed a new unknown Mine Level in Rise of Lyric, and there is some gameplay also! Here are the two gameplay videos, One from Rise of Lyric: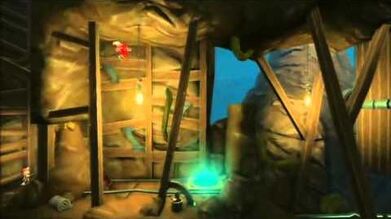 And one from the 3DS version: Shattered Crystal!
Now since they are in Japenese, The Rise of Lyric Gameplay shows Knuckles and Amy on a mini mission (from Foreman Fred) that several miners are trapped. So the two go to rescue them. Sonic and Tails split up somewhere else though. The 3DS version shows Sticks's Boomerang in action, and I think she also has an enerbeam like the others.
Here's a screenshot of the unknown Mine Level:
Other Boom updates
Sonic Boom presentation
Apparently SEGA planned to do a presentation of Sonic Boom at MIP Junior, ( a children's tv programming convention) in Cannes, France. The other bad news is, it's a private event, meant for the press. So we may not get info from there. Though my guess is that the release date for the tv show will be mentioned. (Hopefully). I don't know if it was already done yet.
Soak It All In There's also a Rise of Lyric Cutscene showing Sonic and Amy having earned the crystal, but Sonic is getting impatient when Amy enjoys the view of Ancient Template.
Screenshots in a Magazine
Famitsu is a gaming magazine published in Japan, and in the latest issue, several Sonic Boom/Toon screenshots were found.
The screenshots show several robotic enemies in Rise of Lyric. Such as the Worm like creature we saw in the early trailer of Rise of Lyric. But if we take a closer look...
The two extra screenshots show an angry Metal Sonic, and (not Neo Metal Sonic), Shadow performing on what looks like a Chaos Blast! My guess is that these screenshots depict a boss battle.
The entire thing is in Japanese though. So if anyone can translate it, feel free to comment!
Sonic Boom Plushies
These Sonic Boom plushies of Sonic and Tails were found at the Toys R Us store in North America.
Also, here's a close up of Sonic...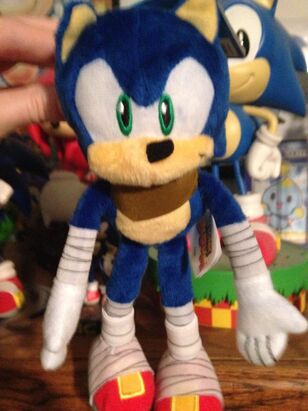 The odd part is, they haven't shown up in a TRU website. There's no plans of releasing in Europe however...that's all for the Tokyo Game Show!
UPDATE: Here are some more toys you can pre order!
Some of these Toys were seen at E3, but there are many new ones. Some will make you laugh. Some will make you cry. One of them confirms a bandaged EXTREME GEAR?!
Sources
Some more information and screenshots about the updates can be found here at this TSSZ article
The article for the Sonic Boom toys is found from the Sonic Stadium
And pretty much everything else from the Sonic Stadium too.