As the 25th Anniversary of Sonic the Hedgehog is dawning upon us, there have been several announcements to the spin off Sonic Boom and the Rio Games from the leaked pictures of Tomy's booth in New York. Let's see what's going on!
Sonic Boom: Fire and Ice delayed... Again.
We once heard that this game was delayed to 2016, but according to this picture, it seems like it's been delayed to the Fall of 2016, or till the end of the year, according to the Sonic Stadium.
This is way longer than usual, but it might show that SEGA and Sanzaru could be working hard on the game!
Mario and Sonic at the Rio Games WiiU release date
The same picture also gives some information about the WiiU version of Mario and Sonic Rio. It's been estimated that it will release in June 2016, after the 3DS version releases in March.
Sonic Boom Season 2 Officially confirmed
In October last year, we learned that Season Two of the Sonic Boom TV series was under production, but now there's confirmation about it's release, it's coming in Fall 2016! 
According to the picture, Season 1 will be airing in Cartoon Network and Boomerang, and Season two will also be airing on Cartoon Network. SEGA has also partnered with Hulu to distribute episodes digitally in Spring 2016. There's no word on how many episodes Season 2 has yet...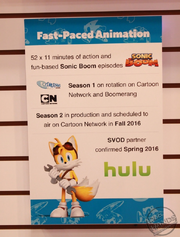 Bill Freiberger, who's the Co-Executive producer and voice of Comedy Chimp, posted a tweet stating that there will be suprises in this season. Wonder what it'll be?