If anyone remembers the Sonic & Mega Man: When Worlds Collide comic crossover that occurred last year, be prepared for this: according to website Polygon, Archie Comics is to release another crossover between the Sonic the Hedgehog and Mega Man comic series in Spring of 2015, under the title as "Worlds Unite". A teaser has been shown below.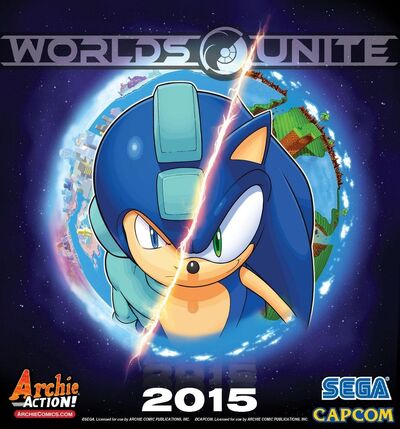 According to Paul Kaminski:
"When the worlds of Sonic the Hedgehog and Mega Man collided in the pages of Archie Action comics, readers, fans and retailers made it the biggest crossover event in Archie Action history. That historic crossover storyline changed the comic book worlds of Sega and Capcom's iconic video game characters forever, but now an even bigger event is on the horizon. You saw what happened when worlds collided, now see what happens when Words Unite! And this time, no universe will be safe..."
Writer Ian Flynn will be behind the writing of the crossover once again, while Patrick "Spaz" Spaziante will perform the pencils for the cover artwork like the last crossover. More is to be revealed on Thursday, October 9th, 2014, so this blog will be updated when more information is announced.
Update - October 8th, 2014
Comic Book Resources has given us more information about Worlds Unite, and, while most of it being a repeat of what Polygon has told us, a new poster has been revealed by the website. Check it out below.