Ad blocker interference detected!
Wikia is a free-to-use site that makes money from advertising. We have a modified experience for viewers using ad blockers

Wikia is not accessible if you've made further modifications. Remove the custom ad blocker rule(s) and the page will load as expected.
Shawn the Echidna. He is a 14 year old echidna and a nephew of Knuckles. He is Cesar's best friend and partner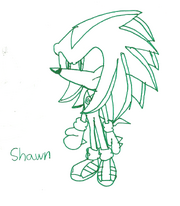 in combat. Comment of what do you think.
CesarTeamHYRO
02:07, June 13, 2011 (UTC)
UPDATE: New character. It's Jenny the Rabbit
Enjoy CesarTeamHYRO 23:50, August 2, 2011 (UTC)