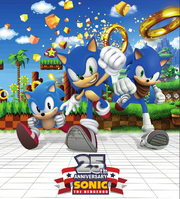 Okay, so SEGA released a new article about Sonic's upcoming anniversary, along with a new graphic, featuring renders from Classic, Modern, and Boom Sonic in Green Hill Zone.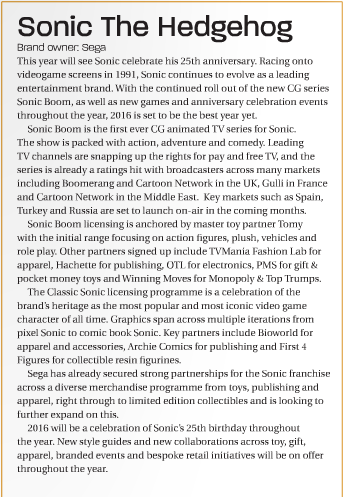 the article goes on about the branding and history of the Boom TV show, "Pixel" and "Comic" Sonic's merchandising. Bioworld, Archie Comics and First 4 Figures are all named as brands who will be supporting the 25th anniversary, with products such as toys, publishing, clothing and even 'limited edition collectibles' and Sega are looking to expand on this list. However, here's where it gets interesting.
"2016 will be a a celebration of Sonic's 25th birthday throughout the year. New Style Guides and new collaborations across toy, gift apparel, branded events and bespoke retail events initiatives will be on offer throughout the year."

New style guides will be set in place so branding remains similar throughout, new collaborations, likely Archie, Boom, and "legacy" Sonic merchandise being created by companies other than the ones they are now, for hypothetical example, First 4 Figures creating Archie toys. Branded and retail events shall take part as well. Could this mean the return of Sonic Boom in the US and Summer of Sonic in the UK? Only time will tell.

And, of most importance, SEGA has officially confirmed "new games" for the coming year. How many games? We don't have a release date for Fire and Ice, and the Rio Olympic Games, yet it is assumed that those will be coming out this year. As this article is referring to the 25th anniversary, it's also possible that we may receive multiple games tied into the anniversary, a similar situation to 2006 may occur, as we got 1 main series game, a port, and the start of two spinoff series, which covered almost every console of that generation. What's in store for the Blue Blur? Only time will tell.