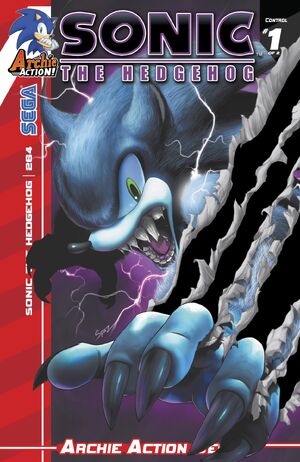 FULL SYNOPSIS

A-WOOOOOOOOO! THE WAIT IS OVER! Prepare yourself for the terrifying debut of SONIC THE WEREHOG! "Control" Part One: Sonic, Amy and Sally venture deep into the rainforest in search of a Chaos Emerald. What they find are Mighty, Ray – and serious trouble! Will Egg Boss Thunderbolt push Sonic to the breaking point? Then, in "A Nice Day to Start Again," Bunnie and Antoine experience the effects of the Shattered World Crisis in a very personal way! Featuring new cover art from PATRICK "SPAZ" SPAZIANTE and an "UNLEASHED" SEGA variant! Script: Ian Flynn, Joey Esposito and Benjamin Bailey
Art: Tyson Hesse, James Fry, Terry Austin, John Workman, Gabriel Cassata
Cover: Patrick "Spaz" Spaziante
Unleashed Variant Cover: SEGA
Ship Date: 8/27
On Sale Date: 9/10
32-page, full color comic
$3.99 U.S.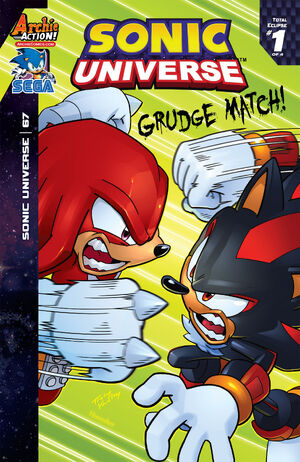 BRAND NEW STORY ARC! The events of "Shadow Fall" and "Chaos Caper" have clashed to collision in the epic new tale -- "Total Eclipse" Part One! The third chapter in the DARK TRILOGY begins here as Team Dark comes to Angel Island on the hunt for Eclipse. But Knuckles isn't known for his hospitality! Sparks begin to fly as he and Shadow clash over how to protect the world! Meanwhile, the sinister Eclipse hunts our heroes! It's the first-ever SU TRILOGY and you'll be in on the ground floor with this titanic new issue, featuring cover art from TRACY YARDLEY and a special "PIXEL CUTSCENE" variant from Ryan Jampole! Script: Ian Flynn
Art: Tracy Yardley, Jim Amash, Jack Morelli, Matt Herms
Cover: Tracey Yardley and Ben Hunzeker
Pixel Cut Scene Variant Cover: Ryan Jampole
Ship Date: 8/13
On Sale Date: 8/27
32-page, full color comic
$3.99 U.S.
VARIANTS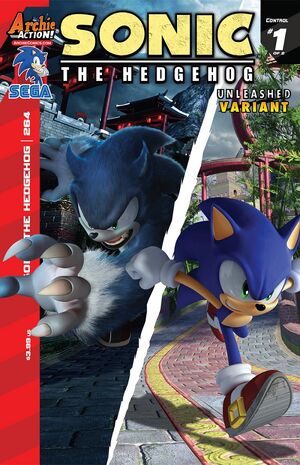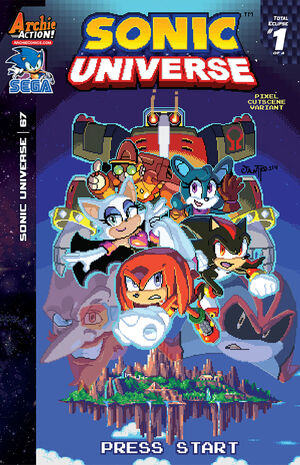 264's variant we already saw, years ago. The pixel cover is amazing. Oh look, there's Snively.