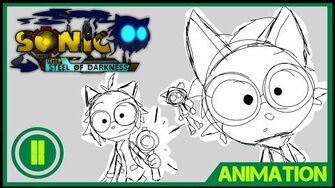 "I'M BACK FROM THE DEPTHS! Also, I made an animation sketch for the series. This is one doozy of a project."
For those who don't know; Sonic and the Steel of Darkness is a fanmade series made by me. It is set to the steampunk world, where a new Sonic has made its own story. Instead of the usual, this storyline took an entirely different route of characters, places and setting. Unlike from different storylines, this series focus on the lost of Sonic's main ability, his speed, and his darkening life. Of course, this series won't be too serious and whatnot, so I made an upbeat of enjoyment. The robots will be having a bigger spotlight giving them personalitities and fitting purposes. I mean, hey, this is the era of mechanical machinery of pistons and gears.
Okay in this animation, there are missing backgrounds and parts. One including the transitions and color textures and the other are the choppy parts of the animation. There was a clear contradicting part when Sonic runs towards the "electric robot," he was supposed to be propel with his gauntlets intially, but it was cut due to the timing. So yeah, you may expect this things from a storyboard animation. Also, I won't spoil the names of the robots, since they'll come to play a lot in the story.
Tell me guys what you think in the comment section down below.
Voice Acting Request Board
I am looking for someone who can voice acting for the characters. Although, the audition is not yet opened. Here's a preview of what the voice should be.
| | |
| --- | --- |
| Sonic the Hedgehog | Normal average 10+ years old |
| Amy Rose | Grown up version of Amy's |
| TiDi | Sarcastic, Mischievous, Savage, Un-flinched |