NewsChannel Exclusive: We've contacted SonicWindBlue, a passionate Sonic gamer about the new Sonic Runners 1.0.2t update.
---
NewsChannel: Is they anything interesting to check out on this update of Sonic Runners?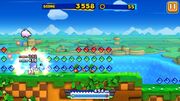 SonicWindBlue: With the Update to 1.0.2t, SEGA Network improved several things people complaint about. When Sonic Runners updated to 1.0.1t, the achievement system wasn't working anymore. This issue was fixed with the latest version of the game.
The main problem was, that some Companions, mainly the ones you could get on a Campaign, were broken. For instance, if you used Merlina and activated the Sub-Character Boost Item, you were able to get a Color Power each time you switched your Character. Same things happened with the RC UFO, Shahra and the Easter Bunny.
Those exploits can no longer be used, so climbing the High Score is skill based and fair from now on. Some more improvements are, that you can log in and out of Facebook when ever you want. It's pretty useful when you try to get Amy. You can also check your High Score real quick when you get a new Record, because it will automatically displayed when you closed the Result Screen. At a certain point in the Sonic Runners Story, the stages you will play next are completely random. So you had to decide which Character could fit the next Stage. Thanks to the Update, an Icon at the top right of the Episode Map shows you which Stage will be next. Now you can chose your Character with no problem.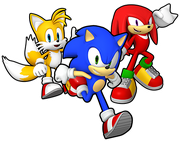 Sadly, SEGA Networks needs to fix some more issues. Several players complaint, that there is still a problem to unlock Amy. The Premium Roulette seems to have some major problems from time to time. It seems like to spin endlessly and froze the game.
You really should take a look to the latest Sonic Runners Update. SEGA Networks tries to improve and works on the game and when the main problems are solved, the game makes so much more fun.
NewsChannel: What your opinion on the Phantasy Star Online 2 Companions?
SonicWindBlue: Well, the Phantasy Star Online 2 Companions aren't that bad, but their abilities are only useful when you leveled them up or when you combine those with Companions who have the same capability. Mag removes Spikes and Spike Balls. At the very beginning of a Stage, you 
normally goes the upper Path to gain many points. He can be useful when your have a good progress in the Level, but there are different other ways to avoid those Spikes.
When you reach a Star Post, Kuna can give you an item effect. Like I said before, there are Companions who have the same capability. Instead of Kuna, I would use Shahra or you could combine those two to increase your chance to get an item. When you use Rappy as a Companion, you have a chance to get a Rappy instead of an normal Animal when you defeat an enemy. As soon as you collect one, it counts as 10 normal Animals.
NewsChannel: Sega Networks announced the maintenance for the update was extended due to minor issues at their side. They have given 30 Red Star Rings to everyone as a compensation gift. What your opinion on this? Did you get the gift? Do you think something like this would happen again?
SonicWindBlue: I got the 30 Red Star Rings and in my opinion - this gesture was pretty nice. The Red Star Rings came in handy because of the PSO Campaign. As you may now, you need 50 Red Star Rings to spin on the Premium Roulette and to get 20 more, it's not a really big deal. I guess there will always be a possibility an issue can increase the time of a maintenance. As long as everything works fine, I will not complain about that.