I'd like to list some great Sonic Couples!
My Top Three
Sonic & Amy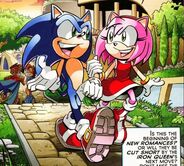 These two have been around forever. They are the first couple in the franchise, I pressume? Amy is Sonic's self-proclaimed girlfriend. She's been trying to win his heart by any means, even threatening to keep him locked in prison. They have a really great relationship in
Sonic X
. Sonic seems nicer to Amy' in the anime.
"In the comic book version, her relationship with Sonic is developed more closely, with Sonic even taking her on a date for Valentine's Day (although this was due to him having lost a bet with Knuckles). He seemed to enjoy himself, however, when Amy asked him if he would ever take her on a date again, Sonic answered "Er...Maybe?".
" Though that's not Canon, they've been on several dates. One of them is in
Sonic and the Black Knight
. Sonic misses in the end though, which gets Amy mad and says, "That's the lamest excuse ever! You just forgot about our date!", when Sonic tells her about everything that had happened. But even with everything that happens, they're a great couple.
Tails and Cream
Taismo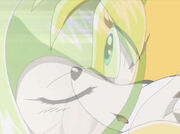 Yeah that's right. The sweetest couple ever. Tails and Cosmo spent almost every moment together in the last Season of Sonic X. Cosmo and Tails fell in love when Amy had set a trap for Sonic to make him fall in love with her, using a potion when Tails and Cosmo fell in and the full moon activated it. Tails defended Cosmo from Shadow he managed to maintain against his much more powerful enemy, even to the point of being injured severely, Tails really cares about Cosmo and will do anything to keep her safe. Unfortunately he had to shoot her in that end. Cosmo and Tails went through a lot. Tails kept Cosmo on the right path, and treated her right. Cosmo tried to leave because always felt like she was a danger to everyone, but Tails always reminded her she was a good person.
Knuckles and Rouge
Rouge the Bat is Knuckles' rival. A Love-Hate-Relationship to da max! In Sonic Adventure 2, they have a fight, during that Rouge falls and almost falls into a lava pit. Fortunately Knuckles saves her, they stare for a long time, but the moment is ruined when Rouge claim Knuckles was attempting to merely hold her hand. Knuckles and Rouge have fought over the Emerald ever since they met. In Sonic Chronicles: The Dark Brotherhood, it states that, "there's a sort of unstated connection between Rouge and Knuckles that neither are overly willing to explore." Rouge even admits that Knuckles is cute but just not her type. In Sonic Generations, Knuckles and Rouge are really friendly to each other, like when they're sitting and talking to each at the party.
So, what do YOU like? Discuss...
Vote in this Poll
What's your favorite couple?