Sonic the Hedgehog has fought powerful enemies in the past.Most likely Dr.Eggman.But,who do
you
think was the most powerful one of them all?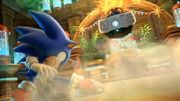 Dr.Eggman
Dr.Eggman was Sonic's first enemy.The mad scientest relies on his destructive machines and robots to stop the Blue Blur.Arranging from minor machines such as the " wrecking ball eggmobile" to major machines like the "Egg Viper".Eggman has also created robots to destroy Sonic as well.From "motobugs" to "egg pawns" to "egg gunners".

File:Eggman Artwork.jpg
Shadow the Hedgehog
Shadow the Hedgehog first appeared in Sonic Adventure 2.He was the "Ultimute Life Form"created by Professor Gerald Robotnik(Dr.Eggman's grandfather).Shadow also shares Sonic's speed and power and can use his Chaos Spear,Attack,Control,Rift,and Blast powers.But he has become more of a friend than enemy of Sonic over the years.
Silver the Hedgehog
Silver the Hedgehog was a hedgehog from the future that first appeared in Sonic the Hedgehog 2006.Silver was tricked by Mephilies that Sonic was the iblis trigger and must be destroyed.Finding out he was tricked Silver helped destroy Solaris with Sonic and Shadow.Silver use his psychokinesis to pick objects up with his mind throw it at enemies.Silver also has the ability to fly.But,like Shadow,Silver has become a friend of Sonic over the years.
Metal Sonic
Metal Sonic first appeared in Sonic CD.Metal Sonic is Sonic's robotic alter ego.He has also copied Sonic's speed.Metal can generate energy to make eletrical shields and blasts and also has the ability to fly.

And he can copy other character's abilities(he copied Shadow's Chaos Control in Sonic Heroes).
Leave a comment on who you think is the strongest and subscribe to my youtube channel! www.youtube.com/user/MrDarthmaul123?feature=mhee
See ya! ;)