So in the small period of time that i am in this wiki i always had the name MyOrangeTails but i think it's almost the time to change this. This name from the start was just a fast name i had to think to make the account but as time went on i started think of making an OC and that's what i made and i will think if i change the name so i can have the same name with my OC. So my OC is Called Sonails. Yeah it kinda sounds like a couple but i think this name best describes my OC because that's what it is,a mix of sonic and tails. I got the inspiration to make this character by an old 2012 deviantart post which was i think about some kind of cosplay event which showed tails wearing a sonic costume. My second inspiration was from the spindash move sonic and tails made in Sonic The Hedgehog 2. So Here is the character i drew :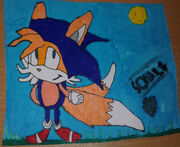 Unfortanely some water got spilled on the photo and this happend :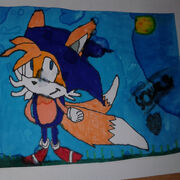 So Now If your confused on what to reply to this blog. Here are some questions :
Should I Change The Name Of My Profile?
Should I Change The Name Of My OC?
Should I Find A New OC?
Should I Just Leave OC's?
Do You Have Better Ideas For The Name Of My OC Or My Profile?
That's All. Have A Nice Day And God Bless
Edit : I decided to rename the OC To MyOrangeTails