This is an SNN Special Report and we have expected to find out more about Sonic Boom. And we did. After that press event I had told you from the last blog post, it has revealed that Sonic Boom will also be a new video game as part of the upcoming TV Show that will air this Fall. In this part, I'll tell you somethings that will happen with the next game along with more information on the upcoming TV Series... So, here's what we have learned. (Updates are shown below)
Sonic Boom (Game)
As of now, SEGA had announced that Sonic Boom is the next game coming soon. But, there is some things you must know about it. First, it will be a Nintendo Exclusive (Sorry PS4 and Xbox One Users, for now), and it will be published to the Wii U and Nintendo 3DS, but the good news is this will end the Nintendo-SEGA exclusive partnership which had started with Sonic Lost World. Second, this will not be developed by Sonic Team, but it will be developed by BigRedButton Entertainment for the Wii U Version and Sanzaru Games for the 3DS version although Sonic Team will do the collaborations. Also, this is going to be more of a per-quel to the TV Series itself but much of the game is going to be composed of combat, exploration, and also some mechanics... The experience of the game will be very different towards other Sonic Games, but we don't know what to expect. SEGA has announced some Screenshots from the game as well as a trailer for the game as well, but in the mean while, we don't know when it's gonna come to the Wii U and 3DS (possibly by the end of this year), and here's the concepts and screenshots from the game (shown below)
Also the trailer, it's shown below.
Also to note, Sonic Boom WILL NOT be powered by the Hedgehog Engine but instead by the CryEngine
Sonic Boom TV Series
Remember
this teaser back in October 2013
? We'll this is how they'll look like right now in the game/TV Series (shown below).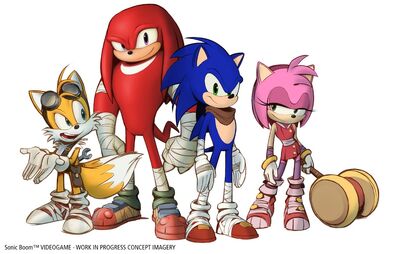 Noticed something? Yea, you get the point. Plus, SEGA has revealed some concept art from the TV Show as well on their blog (
click here to find out more
) and I also have thoes images from the blog as shown below. As of for the rest, we have no word on when it'll air on Fall in the US and France but we do gotten a sneak peak on the show as well.
Sonic Boom Toy Line
SEGA also has announced that their toyline will be done by another company called TOMY. They will have a huge toyline towards Sonic Boom that will come soon but with different features you might not expect from the Jazwares figures, but at that, SEGA will also do a licensing program towards various other categories... And yes, It could possibly go to many things that you may not even expect before with that name
What Else?
So, to review, we do know that this will finally end that Nintendo Exclusivity, but you know what that means to the Sonic Franchise... THEY ARE FREE FROM BEING WITH NINTENDO. But we don't know if the next Sonic Game will become a multi-platform game (which will be released to PS4, Xbox One, and the Wii U or in other cases, the PC). We'll also have a new page on the Game, so if you have anything to bring in, please do so... But Until then, expect more on Sonic Boom as it progresses, but we'll bring you any news on what to expect with the new game, and the upcoming TV Show.
Sources
UPDATES
Times are in Eastern (UTC-4; Newest from top, Oldest at bottom)
7:55 PM (Feb. 12) Sadly, no Chaos Emeralds in this game. So, sadly, you'll not be able to play as Super Sonic in the game. But, in a video interview (more info is talked about in this
Sonic Stadium article
), there is a lot more that will be in that game as well. That interview is shown below.
9:30 PM (Feb. 8) I have read another article from Sonic Stadium and also a CVG interview, and I recently found out that the producer of Sonic Boom, Stephen Frost, has hoped to make more games in the Sonic Boom world but we don't know what it'll come beyond that last Nintendo Exclusive game. Plus development on the game started all the way back to 2011, at least two years before an Nintendo-SEGA partnership began. Eventually, it was supposed to go Multiplatform but instead, they decided to go with Nintendo-Exclusive anyway. There's more I'll also explain. Expect some of the following
2 Player Co-Op (which much of the game will be composed of although it's possibly that 4 players can play)
In Single-Player, the player can switch characters (from Sonic to Tails to Knuckles to Amy and vise versa) and it will be similar to LEGO Game
We don't know if some things other than Online Multiplayer will be available.
However, as I speak, many of the fanbase are pleased and sometimes, upset and outraged about the caracter design as well, despite having it to be a spinoff, accoring to a TSSZ Report.

12:25 PM (February 8) Unfortently, we found out that accoring to a TSSZ Report, there will NOT be any online multiplayer but local Multiplayer will happen.
7:30 PM I also want to give out another note, this could be a "different take" and also a "new branch" of the Sonic Franchise, according to TSSZ. HOWEVER, Please note that this will NOT replace the original Sonic The Hedgehog franchise, according to a Destructoid interview. So this might be a spin-off.
7:10 PM BigRedButton, the people behind the Sonic Boom game have just tweeted that someone is going to compose the music for the game, but they'll reveal it soon. Plus the game, according to SSF1991, the game will have local mutliplayer, for now. No Word if Nintendo Netowork connectivity will be used on the final release.
6:51 PM Sonic Boom and Knuckles had been on the top trends on Twitter. Sonic Boom went up to #7 today (Feb. 2) on Twitter and had up to 18,100 Tweets with that term.
6:22 PM: Lizuka has just Confirmed that Sonic Boom WILL NOT come to Japan (for now) according to a Polygon Interview. We don't know if when it'll come to Japan, but many are asking questions about the franchise as of now. TSSZ contribute some info for this update.