Hedgehog Day is known for the release date of Sonic the Hedgehog 3, but it has been hinted by many other people as well for some games that might come up... Since 2010, SEGA has since posted a blog on this day, Feb. 2, about news on a possible Sonic Game. As it's the 20th Annivarsary, We will expect to see one coming up soon, here in this Blog post. Please remember to check back for any new updates regarding to any new Sonic games and may more. We hope something like Shadowunleashed13's blog post on a rumored Sonic Game is true...
Updates
NOTE: All times are in Eastern (UTC-4). Newest news updates are on the top, oldest on the bottom.
10 PM And we are done. That's it for our dissaporting Hedgehog Day Coverage.... We'll, we hope to expect, but in another day, we hope to see more. That's if from my Home state, and until then... Good night.
9:35 PM Well... Its sad. No Sonic News for the day. IDK if any will come but if nothing coming, that will conculde our Hedgehog Day Coverage. Sad to find another that will come but until there's another sonic news, we'll break but if there none... We'll all have to say good night.
6:30 PM Unfortently.... We have no Sonic News for Hedgehog Day this year (for now...). :( But I'll do my best to get any info as we get any word from SEGA.
5:30 PM We still hadden't got any updates from SEGA, yet. We could hope something like this to happen soon...
3:05 PM RadioSEGA has announced that at 4 PM EST (9 PM UTC), ForeverSonic (Simon Shirley) will celebrate Hedgehog Day with a FSRandomHour.. BTW, No word from SEGA yet but the SonicNews Show is not on livestream yet...
1:15 PM RadioSega, is also going to do an event but we don't know what it's going to be.. Just an Hour ago, RadioSEGA tweeted "Also, watch this space for we might have something planned on RadioSEGA later as well!" We'll find out soon.
1:10 PM SSF1991 has finished his Sonic 3 Livestream after spending 4 hours on it but he'll come back for SonicNews Show at 3 PM EST/8 PM UTC. By the way, the stream will go into Youtube soon. The SonicNews Show will be going to be in Sonic Paradox's Livestream Channel in less than two hours from now. As for the twitterverse and others, no news as of now.
12:30 PM
Let's recap the
blog form Shadowunleashed13
. So, the 3rd Nintendo Exclusive is missing from this picture but we do expect to have another Sonic game to the newer 8th Gen Consoles soon but that announcement may come in a moment.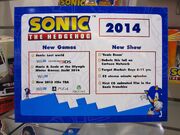 Plus, the photo on the Nuremberg Toy fair... We many speculate that there is another Sonic CGI film to come up soon. Oddly, the photo thinks it's an "film" when
Sonic Boom
is a TV Show, according to a
Sonic Stadium Report
.
12:00 PM We are now live. Welcome to the blog... So as of now, there is no word from Sonic's Twitter or Facebook including SEGA's Facebook feed but it'll keep you posted if anything comes up.
11:45 AM We're not gonna start news yet (I'll do it in 15 Minutes), but the Livestreams for Sonic 3 in Sonic Paradox is still underway. Also, I have found another broadcast on Join.me with another SNN user, Loudclaw, and he's broadcasting it live (note: there's no audio, but he's also showing the Chat room as well) Click here for Loudclaw's broadcast (expect some lag since he's playing this on an emulator) Also, if you're looking for Sonic Paradox's coverage, click here.