Every year, two major Sonic-releated events always comes. But not this year, and also, not this summer. There will be some fun things to do but this year, there is one event that will be there, like last year, and it will be traveling to another city and another Sonic event that will not host one for this year. So, here is some good news and bad news (I'll start with the Bad news first).
Summer of Sonic.
Unfortently for those in the UK, THERE WILL BE NO Summer of Sonic Convenion for this year. This is sad for one of you who are reading this especally for those in Europe who come there. Sonic Stadium annouced it today with this message shown below.
Every year, The Summer of Sonic team dreams of new ways to excite and inspire like-minded Sonic the Hedgehog fans, with large-scale conventions that aim to bring people together under a common theme.
Due to the nature of how the annual event is organised, each Summer of Sonic event hinges on the availability of key team players, as they help build the show in their spare time – alongside SEGA personnel who also must work around their daily duties.
With this in mind, it is after a lot of consideration that we have decided to put Summer of Sonic on hiatus for 2014. During this hiatus, we will take stock of the things we have accomplished with SEGA and then decide when we will be able to return for another round of Sonic excitement.
The team would like to express our sincere thanks for the continued support of our fellow Sonic fans, as well as our apologies for any disappointment this news may cause.
Since its debut in 2008, the Summer of Sonic has been a truly pioneering event, entertaining thousands of fellow Sonic the Hedgehog fans from all corners of the world with the mantra of providing a convention by the fans, for the fans.
Its creation also marks a significant milestone in the video games industry – these past six years this small team of adoring fans have enjoyed an extremely close working partnership with the company responsible for the products and characters they grew up with and love. This close interaction between brand and community is unprecedented to this day, and shows SEGA as a company ahead of the curve when it comes to fan engagement.
As such, the team would like to thank SEGA and the Sonic Team for its support for the convention – both past, present and future.
The organizers will hope to make a better one next year or soon but we don't know if there's high hopes of another one coming soon. So again, No Summer of Sonic for this year.
Sonic Boom Event
And for this one, and no for those on the lookout for Sonic Boom, we're not talkin' about that Game, or that TV Series that is coming soon this winter. We are talking about that event that will be there. And don't worry. It will still be there. But It's not going to be in LA, San Fran, or somewhere else. Go East and think of a city there at the East Coast. Want to know where it's coming to? (Hint: It's the largest city in all of America. If you know it, scroll the page down)
NEW YORK CITY
If you guessed it. YES! That is where the Sonic Boom event is going to be held this year. It is going to take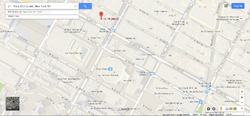 place on Saturday, October 4th, 2014 at the Grand Ballroom at Manhattan Center at
311 West 34th St., New York, NY 10001
. It's gonna be a short walk from New York Penn Station and also very close from the NYC Subways which is convenient if you take Mass Transit. It will be taken place during the Evening and like most New Yorkers and some Tri-State fellas who might make it, I don't know if I can since I live within 30 minutes from there, but I can't tell but we'll see. We don't know any information for the event but expect Ticket Sales, who'll be there and more in the upcoming months. Until then,
the event is up on Facebook
, if you want to join in or plan to do so but we hope to expect some more later on. I'll also give you your Guide to the Event as well within a week before the event so Keep it locked with SNN for the latest.