We'll, it turns out that SEGA staff like Aaron Webber, Stephen Frost, and others aren't coming to the Big Apple (A.K.A. New York City) for tourism... They are acctually come there, for something regarding to another Secret Press Event. And by the way, it's even possibe for people to crash into that event (we'll maybe not). In a Machinima video, two people on that vid revealed that they were invited (Invite Message shown below) to a Press event We don't know what it'll talk about, but it'll start at 12 PM EST with some cocktails and acholoic drinks (which for the most of you won't be able to drink), then a presitation at 12:30 PM EST until 1:20 PM EST where they'll have a reception and interviews until 3 PM EST.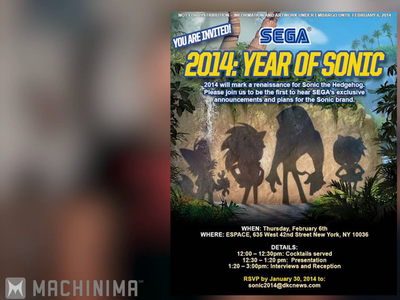 All that I know is that there is possible announcements and more infomation regarding to the upcoming TV Show,
Sonic Boom
, along with newer Sonic Games (with the 3rd Nintendo Exclusive, Next-Gen game, or both) and many others. We don't know what we'll expect, but we'll break to you if any thing comes in...