Heading off to Seattle this Labor Day Weekend for PAX Prime? SEGA will be there and you can get a chance to play Sonic Boom as well! The Game has been playable on this year's E3, Gamescom, SDCC, and now PAX Prime, and SEGA will be back for this. As a note to that, Sonic Boom will be at booth #652 and in addition... If you can't come to PAX Prime, you can also be able to watch the PAX Prime Demo on The Next Level live stream on Twitch.TV at these times shown below.
NOTE: Times in PDT (UTC -7), EDT (UTC -4), and in UTC and they are Approximate
Friday (8.29.14): 12:35 - 1 PM PDT; 3:35 - 4 PM EDT; 7:35 - 8 PM UTC
Saturday (8.30.14): 2:55 – 3:25 PM PDT; 5:55 - 6:25 PM EDT; 9:55 - 10:25 PM UTC
Sunday (8.31.14): 1:25 - 1:55 PM PDT; 4:25 - 4:55 PM EDT; 8:25 - 8:55 PM UTC
Monday/Labor Day (9.1.14): 2:10 - 2:40 PM PDT; 5:10 - 5:40 PM EDT; 9:10 PM - 9:40 UTC
Also, Expect another trailer for Sonic Boom at PAX Prime (we will upload and post that when it happens) and also, we want to tell you that the TV Series will aired later this Fall so expect that to happen. We got lots to cover for PAX Prime so keep it locked to SNN for the latest on Sonic Boom at PAX Prime. Also, we'll update this page for any updates while PAX Prime is happening
UPDATES
Times in EDT (UTC -4); Newest at top, Oldest at bottom
September 1 (Labor Day)
10:10 PM: That's it for PAX Prime. Few more things to update, IGN just showed the demo of the game (it is shown below)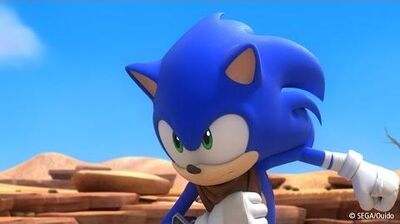 Also, a Brazilian Sonic Fan website rumored that the Sonic Boom TV Series could be aired by November (which was tweeted by Cartoon Network Brazil though that tweet has been removed and it was posted as early as July 7) along side with the games. There is no official confirmation from SEGA about it though we all know it's going to be aired by November.
Until the TGS and others.. See ya.
EDIT: @CNBrasil (The Offical Twitter Account for Cartoon Network Brazil) announced that the rumor is false but it could be likely that it could be aired by November
August 30
5:57 PM: Nothing much that we've got, but on The Next Level Live stream on Twitch.TV, there was technical issues before it began so it will be a slight delay on the Livestream as of now...
August 29
5:51 PM: Yes, forgot to mention but there's more Shattered Crystal Screenshots from Worthplaying.com, and you can check them out here.
3:55 PM: Steven Frost, the Producer of Sonic Boom, has just tweeted that BOTH Metal Sonic and Shadow WILL BE on both versions of the game. He also announced that both versions will contain In-Game and cinematic Cutscenes (something that has been used such as Sonic Unleashed)
12:30 PM: Sonic's youtube page has Offically unveiled the PAX Prime Trailer. It was Private but yesterday, we do know that some others were luck to get it there before Sonic's youtube ever posted it the next day. Immediately after the link to that trailer was posted, it was marked Private but it was later unmarked and viewable to the public, eventually, Sonic's twitter tweeted to me there was some technical issues after it was posted. The Trailer is shown below. Alternatively, others do have the trailer.
August 28
6 PM: A Trailer for Sonic Boom: Shattered Crystal just got leaked with some cutscenes from the Wii U Version. Also, we also got, for the first time, an image of Shadow in Sonic Boom (Shown Below) and this time, its form the trailer and he could be in Rise of Lyric though unknown about Shattered Crystal.