As the E3 Intesnity goes higher, we gotten a lot of speculation of this trailer. And yes.
Sonic Jump Fever
will be ready for Summer release on
Android
and
iOS
. Currently it is only in Canada for it's soft launch but it will make a world wide release soon. The trailer for this game is shown below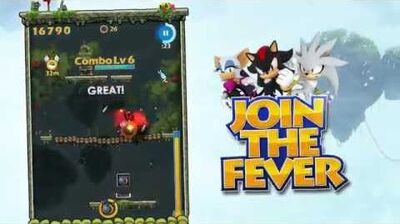 And of now, you might remember the
last post
regarding to possible releases towards iOS in the world wide view and also Android which was never mention back then (I was able to be notified that an Android release is coming) but it is going to be Free but we don't know when the game may come and get relesed to Google Play and the App Store. The good news is that both iOS and Android will get it but we can't tell when so we'll have to wait and see, but until then Keep it here at SNN for the lastest on
Sonic Jump Fever
and more and if there's any announcement on release and others, we'll break to you.
UPDATE (6.12.2014; 6 PM EDT) SEGABits reported on their E3 Preview post that the game could be released by August of this year.