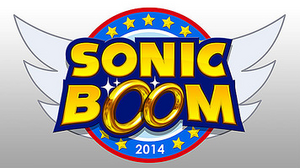 Coming down to the City? Well, ya don't wanna get lost in a city that never sleeps, of course! This is NOS here, and I got your guide to Sonic Boom 2014, happening at the Manhattan Center in Downtown Manhattan in New York City, along with what's happening there, and how to get there as well. Just to hit you up, the Sonic Boom event will happen This sautrday, 10.4.2014 and it will start at 6 PM EDT with Doors opening at 5 PM EDT.
Location
As mentioned earlier, the even will be taken place at the Manhattan Center at 311 West 34th Street, New York, NY, 10001 (the exact location of the event). It is a short walking distance from New York Penn Station (which is a major transit hub of New Jersey Transit, Long Island Railroad, and many NYC Subways) and its also close to some New York City Subway Stations. In addition, its only a few blocks away from the Port Authority Bus Terminal.
Weather
UPDATE: Grab your umbrellas just in case. It will be raining for much of the day, according to Accuweather but it will rain from the morning hours up until a few hours before the doors are open. It will be breezy, gonna be at the around the 60s (Around 18-21 Degrees Celsius) so grab a sweater just in case.
Transportation
By Mass Transit
Regards less, Mass Transit is the way to go. However how you'll get there will depend on where you're coming from. A train is recommend when coming from Long Island and New Jersey, and in addition, you can even come there from Amtrak if you're taking a day trip to New York City.
From New Jersey
Again, New Jersey Transit, for the most part, is the way to go and there is a lot of stations from Northern and Central New Jersey that will take you there. Trains is a better option but buses will be a bit different depending on the location that they'll take you. For the Trains, be aware that most trains will take you to New York City during the weekend. For others, know the following
Northeast Corridor Lines and North Jersey Coast Lines will offer a direct route to New York Penn Station
The Raritan Valley Line only offers trains to New York Penn Station during the weekends. Since it runs on diesel and it cannot go into the tunnels to New York Penn Station, you must transfer at Newark Penn Station and take any train directly to New York City or the PATH to 33rd Street Station in Midtown.
If you are taking the Port Jervis Lines, Main Line, Bergen County Line, or the Pascack Valley Line, you must transfer at Seacacus Junction since there is no direct path to New York Penn Station.
For the buses, look for the route numbes #1XX as these routes will take you to New York City. However, check with the routes very carefully as some may lead to the George Washington Bridge Bus Terminal. If you are taking PATH, and coming from Newark, transfer at Journal Square and take the train to 33rd Street (with a stop at Hoboken) be reminded that there's NO SERVICE on the World Trade Center and Exchange Place Stations due to repair work from Hurricane Sandy and others (more info here). If you're coming from these stations, NJ Transit will cross-honor these tickets for the Hudson Bergan Light Rail service to the Hoboken Station and then taking New York City Subway to get there. Also, Just to warn you, all train fairs at the PATH, starting on October 1, 2014, WILL GO TO $2.75, and buying a new MetroCard (which they are accepted in PATH Rail) will cost a $1. So make sure you have enough money for this.
New York City
The A, C, E, 1, 2, and 3 trains are the available trains closest to the Manhattan Center. Again, there is free transfers on the subway and on buses with the Metrocard as well. The M34 and other buses stops there however, you will need to pay early before you board. Expect delays and others on NYC Subways, so before you go, please go to the MTA's Weekender page for more information on any delays and suspension on NYC Subways. Subway fares are at $2.50 (Plus $1 fee for a new MetroCard)
Long Island
The LIRR is recommended but look for trains that go directly to New York Penn Station. Some trains will most trains will end up into the Jamaica Station while some will require a transfer. Find a train that Before you head off, please check with the LIRR Website for more details on how to get there. Remember, Metorcards ARE NOT Accepted.
Northern New York and Western Connecticut
Be aware that the New Haven, Harlem, and Hudson Lines will end at Grand Central Station and transfer on New York City subway or buses is necessary. Once on Grand Central, buy a ticket or a MetroCard, take the Shuttle Train (or the 7 Train) to Times Square and then take either the 1, 2, or 3 train to 34th Street Penn Station. Then head on to the Manhattan Center.
Recommend Apps for Mass Transit
I hate to say this to iPhone users but AVOID APPLE MAPS unless you are driving. There is no mass transit naviagtion for it. Instead I suggest to use an alternative for naviagation such as Google Maps, which they do offer mass transit naviagation so you can navigate to your desitnation. Also, I always suggest you take the Tranist App which is a really good app to naviagate to the place and back on mass transit and also see when the next train or bus is coming (Android; iOS)
By Car
I want to say this and this is pretty much the most idiotic thing to do. NEVER DRIVE A CAR. There will be a lot of traffic, worse, if your route will go thru Route 1&9, there is Pulaski Skyway Closures that will go on until April of 2016, so please plan to get extra time to do this. We recommend you leave by around 3:30 PM or earlier depending on where you are coming from. The good news is that Alternate Side is suspended due to two religious holidays that are happening on that day but drivers must pay for the parking meters. So please act quickly when doing it and make sure you have enough money for them. If you can't find a parking spot, the closest parking garage is located next to the Manhattan Center which us operated by Meyers (If you have Optimum Rewards, you there is a special offer for those people where you can get 10 Hours for a cheap price of just $19) and the rates are at $9 per half hour and it can go up to $41 for 10 hours. Some may charge you, some will be free, depending on where you park. I highly suggest to go to [bestparking.com for a good place to park and pay for it at a good price.
The Event
NOTE: The Schedule will be published soon once there is an announcement on it. This blog post will get updated when that happens
Rules and important information
Sonic Boom will start at 6 PM with the doors opening at 5 PM Eastern Daylight time (UTC -4). The event WILL NOT be livestreamed, so sad news if you want to see if from the comfort of your home. However, if tickets are sold out, don't worry. If you weren't able to buy tickets online, or you don't wanna pay them thru Ticketmaster, you can buy it at the convention's doors at the same price at $41.75 (taxes included)
Also, you can do the following: Get an autograph (which is free) and film inside the event. HOWEVER, you cannot re-enter (The Manhattan Center is very strict with this) so once you exit, you can't go back and also you cannot bring any alcoholic drinks.
All Drinks and Snacks will be available for purchase ($6 for Drinks; $4 for Snacks) and please do not bring any outside food and drinks.
What's in the event?
NOTE: Performances & Activates are subject to change.
Live performances with the Sonic Actors (including Roger Craig Smith, Colleen Villard, Travis Willingham, Cindy Robinson, Nika Futterman, and Mike Pollock)
Live Musical Performances from Jun Senoue, Tomoya Ohtani, Ted Poley, and Tony Harnell
You'll be able to meet and greet them plus there will be autograph session on it as well with the Performers listed above.
Sonic Team developer Takashi Iizuka will be there along with Stephen Frost
Tracey Yardley! will be there to sign autographs and sell his sketches!
You'll be able to see the Sonic Boom toyline but they're not available for sale during the event.
Also we do have the prices for all mench to be sold :P
From Tracey Yardley

Sketches and Posters: $15
Original Comic Book Pages: $40
Sonic Back Issue Comics: $5-$20
Comic book Collector Sets: $20

From Ted Poley
(*) Cash will be accepted for the most part. Credit may/may not be allowed however, an ATM is available.
I will update this page for any updates including the schedule and for those who are wondering I'm coming, I will not be here unfortunately so I'm very sorry I can't come but I as always, hope you'll have fun!