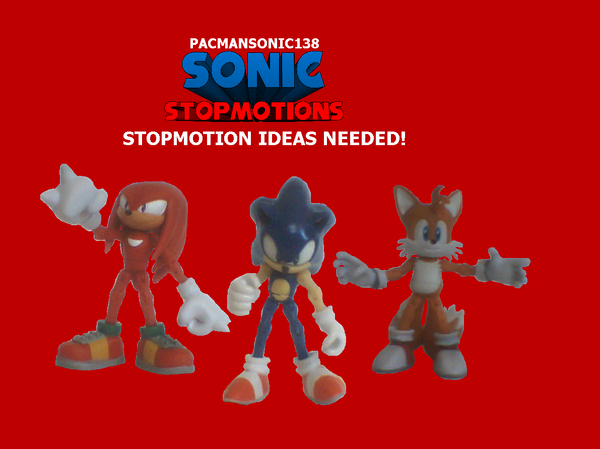 I want some ideas for some Sonic Stopmotions (see the picture with the crappy attempt to rip some pictures of Sonic figures). Here are some things I will NOT accept.
I will not accept
Fighting Stopmotions (I had enough of those)
Any Stopmotions that require voices (I don't like doing voices)
Stopmotions with Figures I don't have
Stopmotions with Extreme Special effects (I use Movie Maker :B)
Stopmotions with Fan-Characters, characters from TV Shows, or characters that haven't been released yet (I don't make customs and also I don't want to pay someone to make some)
Any Stopmotions that have to do with Couples (SonAmy for example)
Any inappropriate ideas
I have the following
5-inch Sonic
Super Poser Sonic
5-inch Black Knight Sonic
5-inch Werehog
3-inch Clear Blue Sonic & Knuckles
3-inch Tails
3-inch Black Knight Sonic
Super Poser Shadow
3-inch Shadow
3-inch Silver
3-inch Werehog
All-Stars Racing Sonic with Car
All-Stars Racing Shadow with Bike
All-Stars Racing Knuckles with ATV
All-Stars Racing Tails with Plane
3-inch Sonic & Amy
3-inch Eggman & Metal Sonic
Mini-Racer Sonic
Mini-Racer Shadow
Mini-Racer Amy
Mini-Racer Amigo
10-inch Sonic
Super Pack
Big & Froggy Pack
Super Poser Tails
Metal Sonic JUVI
Knuckles JUVI
Werehog JUVI
5-inch Classic Sonic
3-inch Classic Sonic with Moto-Bug
3-inch Classic Tails with Grabber
3-inch Classic Eggman with EggRobos
Mono-Beetle
Egg Pawn
Egg Fighters
Sandworm
10-inch Classic Sonic
Gacha Buildable Knuckles Figure
Enjoy thinking of good ideas!