UPDATE: Turns out the images were uploaded on 15 July 2013, but were not archived until 17 April 2014. The project is an old one, and likely also a scrapped one.
---
Fanfictions come true?!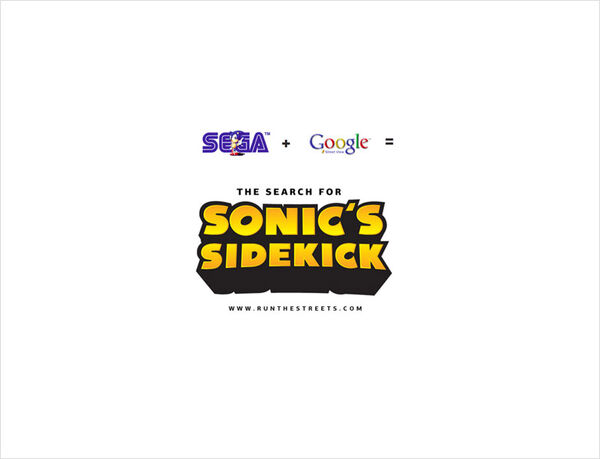 The Sonic Stadium has discovered what seems to be a Sega game in the works. The game, titled The Search for Sonic's Sidekick, is a worldwide campaign in which fans can race around real life cities in a competition to become Sonic's sidekick in an upcoming Sonic game.
Slides showcasing a game for iOS, Android, Mac, and PC were uncovered on DDB Tribal artist Michael Nagy's website. DDB Tribal are responsible for major campaign events and advertisements for a variety of big brand companies.
The premise of the game is for players to race around real world cities using Google Street View. The player who scores fastest time at the end of the competition will see his or her online avatar in the next Sonic game.
The description for the game is as follows:
We have created an online game using Google Street view where you compete to become Sonic's sidekick. Your online avatar will be in the next game that is produced for Sonic. The competition will run for 11 months and move to a different city every month across the globe. The cities include Tokyo, Hong Kong, Berlin, Paris, London, Cape Town, Toronto, New York, San Francisco, Rio De Janeiro and Sydney.
According to Sonic Stadium, the page on which the slides were found was archived on April 17th 2014, only five days ago. This isn't a long-gone idea Sega once had; we might even see it in the near future.
This is not a confirmed game. For now, we classify it as a rumor.
For now, enjoy the slides.