Talk about an unexpected sequel! Sonic Jump Fever, a free follow-up to the Sonic Jump remake, has popped up on Canada's App Store. It features characters from the previous title, and offers in-app purchases such as extra Red Star Rings and a "Ring Doubler".
The game is still version 0.0.1, and requires 97.8 MB of free space, as well as iOS 7.0 or later.
The app description is below.
Prepare to feel the FEVER in an explosive race against the clock! Join Sonic and friends in high-speed bursts of vertical jumping mayhem. Play for free and rack up huge combos to blast past your friends' high scores.
Use boosters, upgrades, unique character abilities and Chao pets to maximize your score. Then kick your game into overdrive with Fever Mode and hit the top of the Leaderboard! With brand new levels and leaderboards every week, the challenge never ends!
Jump Revolution
An all-new Sonic Jump experience - this time Sonic and friends are in an explosive race against time!
Catch the Fever
Unleash the Fever and enter hyper-speed as Sonic goes interstellar to score earth-shattering combos!
Compete Against Friends Every Week
Blast past your friends' scores with weekly leaderboard refreshes that keep the challenge going!
New Levels, New Adventures
Jump to the heavens in brand new locations such as Mechanical Zone!
Cast of Characters to Play & Upgrade
Play as Sonic, Knuckles and a host of other famous characters. Upgrade their unique moves and abilities to help them soar to the skies.
Chao
Recruit a legendary Chao from the Sonic universe! Find all the Chao to help you beat badniks, search for hidden rings and many more unique abilities!
Here's some gameplay released by Touch Gameplay.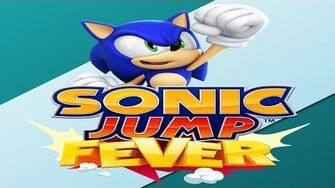 EDIT: Sonic News Network user The NJerseyan has contacted Hardlight Studio concerning the game's release platforms. The response from Megan Davies confirmed that "Sonic Jump Fever is currently in Soft Launch only in Canada, but when it is released globally later this year, it will be available on both iOS and Android".