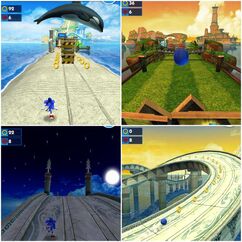 Just a few moments ago, Hardlight Studio released a new update for the mobile game Sonic Dash. Version 2.5.0 adds a new feature that changes the time of day as the player runs, putting a little variety into the scenery. Also included in the update is an attempt to optimize the game for older and lower-end devices that have previously struggled to run the game smoothly. If you've had issues with performance in the past, now is the time to see if your device handles the game better.
Sonic Dash isn't the only mobile Sonic game getting an update this week. Sonic Runners, the endless runner by Sonic Team, has a confirmed new character: Rouge the Bat. According to Sonic Runners' official Twitter account, the character will be added to the game tomorrow for a limited time, but can only be unlocked through the in-game Roulette Wheel. Here's a roughly translated version of the official tweet:
[Notice] The wild treasure hunter and sexy jewelry specialist is a new character! Be sure to get "Rouge" starting tomorrow 7/10 18:00 in the premium Roulette! It's a limited time appearance. Enjoy!