If you haven't figuered it out, today is my Birthday! I'm 15 and living life better than ever! As i promised in my Contest blog, today i would anounce a winner. All of you entrys where awesome. Boy i'd tell ya, they where hard to judge.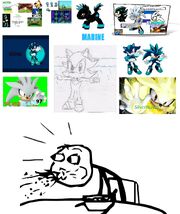 But, now is the time.
In 3rd place, we have: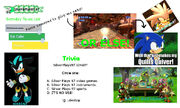 Shadowunleashed13's picture colab! Congradulations shadow! You get a new advatar photo!
In 2nd place, we have: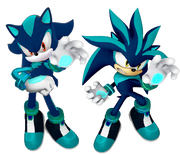 SplashTheHedgehog's marine 3-D artwork And Silver's marine outfit! Congradulations splash! You get a drawing of you fan character!
And in 1st place, we have: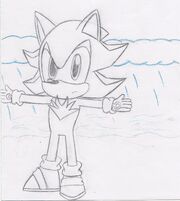 ModrenSonic's sketching of marine! Congradulations modern! You get a drawing of your fan character AND a video reqwest! (tell me what you want on my talk page)
WAIT! I'm not done yet!
Remember back in early august when Time Bitter posted that Senario game? Well i tock it apon myself to make my own!
Month:
Jan: Play lazer tag with
Feb: Go camping with
Mar: Get stuck in a for a week hole with
Apr: Play Sonic Shuffle with
May: Eat pizza with
June: Get in a foot race with
July: Go to a dance club with
Aug: Sleep in the same bed with
Sep: Go on an Adventure with
Oct: Pull a prank on Mario with
Nov: Go fishing with
Dec: Edit SNN with
Day:
1: Scourge
2: Tails
3: Chip
4: Amy
5: Mighty
6: Shadow
7: Sally
8: Vector
9: Cosmo
10: Eggman
11: Jet
12: Rudge
13: Big
14:Espio
15: Sonic
16: Fang
17: Blaze
18: Storm
19: Metal Sonic
20: Wave
21: Silver
22: Ray
23: Cream
24: Charmy
25: Knuckles
26: Manic Acorn
27: Chaos
28: Marine
29: Omega
30: Omocho
31: Super Sonic
In other news, i have a Skype now AND fonded my own wiki! http://sonic-flash.wikia.com/wiki/Sonic_Flash_Wiki
Tux you all! --SilverPlays97 (Wall) (Contributions) 12:20, September 21, 2012 (UTC)