Era Finals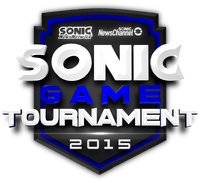 The Sonic Game Tournament 2014 is an event being held by the Sonic News Network. Beginning on 19 March 2015, several games from across the Sonic the Hedgehog series are slowly narrowed down to the fanbase's favorite game of all, as voted by you, the users!
Go here to see the bracket!
Every week will have several one-on-one battles, in which anyone can vote for their favorite game out of the two. One by one, games will be eliminated, until at the end of the tournament the winner is determined.
Polls Closed
Results
SilverPlays97 reported a (33-30) win for Sonic the Hedgehog 2 over Sonic & Knuckles.
SilverPlays97 reported a (34-30) win for Sonic Heroes over Sonic Adventure 2.
SilverPlays97 reported a (35-31) win for Sonic Rush over Shadow the Hedgehog.
SilverPlays97 reported a (38-30) win for Sonic Generations over Sonic Unleashed.
Final Four is Set:
Sonic the Hedgehog 2
Sonic Heroes

Sonic Rush

Sonic Generations
Special Thanks
To
SilverPlays97
for organizing the event and putting together the pages for each round.
To SonicTheHedgehogDude for providing the images used in this tournament and posting on social media.