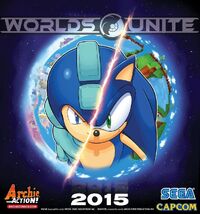 Well, everyone, today is the day.
The boys in blue meet again in this 12-part crossover event presented by Archie Comics, Sega, and Capcom called Worlds Unite!
This is the place where you talk about each part of the biggest story arc of the year. Once each issue (starting with Sonic Universe Issue 76) of this 12-part arc has been unveiled, you express your feelings and thoughts about about what you've seen.
As always, this is the main rule: No off-topic comments! All posts must be relevant to this blog.
Feel free to write anytime.