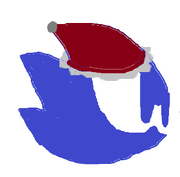 Just wanted to make some Christmas shout-outs to everyone here that is regular or I've met. I'll add more during the rest of the month.
BlazeChance1: You're the first person who really noticed that I came here besides PKMN.
FreeSmudger: You have inspired me to work hard.
CesarTeamHYRO: You have inspired me to work on my drawing skills.
MetalShadow272: You have inspired me to share my ideas publically.
Sacorguy79: You've inspired me to make the end count.
PKMN The Hedgehog: You were my 1st friend here.
HyperHearts58: You made one of my favorite wikis (Central Sonic Fan Bureau) that's not as corrupt as the Fannon wiki.
Mewkat14, Time Biter, and Myself123: You guys make awesome sprite comics!
SonicTheHedgehogDude: You made me remember not to forget to apologize.
Guess Who: Even though he's not here anymore, he made an awesome wiki!
More coming soon!