Hello. The SNN logo is changed back to normal because the christmas was done then when i was on chat, the Christmas logo is again. I was guessing it was a bug. It's looks like this: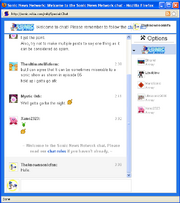 See? That is the bug. I used to photo it with the photo button and i copied that chat window and then done.
Hope administrators to fix it :) .
And yeah, im using Windows XP and that OS is retiring soon. I will get Windows 7 soon :) .