Hey paty peoples! Thunder here and if you didnt hear it last night here are the winners of Comic off! There were good comics but one was the best of all! And the results are...
Minor awards
Best Punchline: Time Biter
Best pose: Lightning the hedgehog: MetalShadow272
Most complicated sprite: Sonic the Hedgehog's head exploding: Mewkat14
Best quality: Time Biter
Best Cast: Sly the Fox
Randomest:MetalShadow272
Third Place
The tie for third place is...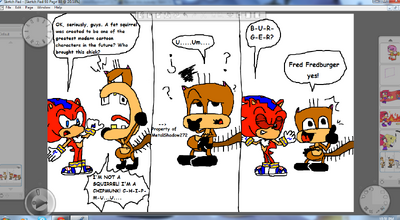 MetalShadow272!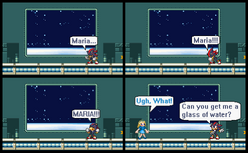 Myself123
Second place
And now... the winner of comic off...........
And the winner is...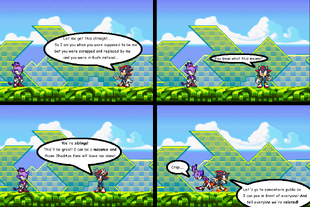 Time Biter!!!
Time Biters interview
Thunder: Why did you start making sprite comics?
Time Biter: Well I just thought they were cool. Kinda underwhelming, right?
Thunder the Hedgehog: Not really.
Thunder: what was your favorite comic you have ever made?

Time Biter: I guess the first Pikachu sezuire. Something to do with 'chu

Thunder: oh yeah that was a good one.
Thunder: what plans do you have for your sprite comics?

Time Biter: Well, soon I'm gonna introduce my FCs to the comic. They'll be the guys running the comic (Like Power Rings)
Thunder:wow that'll be awesome!
Thunder: any tips for people inspiring to make sprite comics?

Time Biter: I would say to figure out which style wroks best for your comic. To figure out all the ins and outs. So they can figure the thigs out themselves.
Thunder: Time Biter everybody!

Time Biter: *walks off stage in front of 1000 clapping people*
Congradulations to everyone who entered!