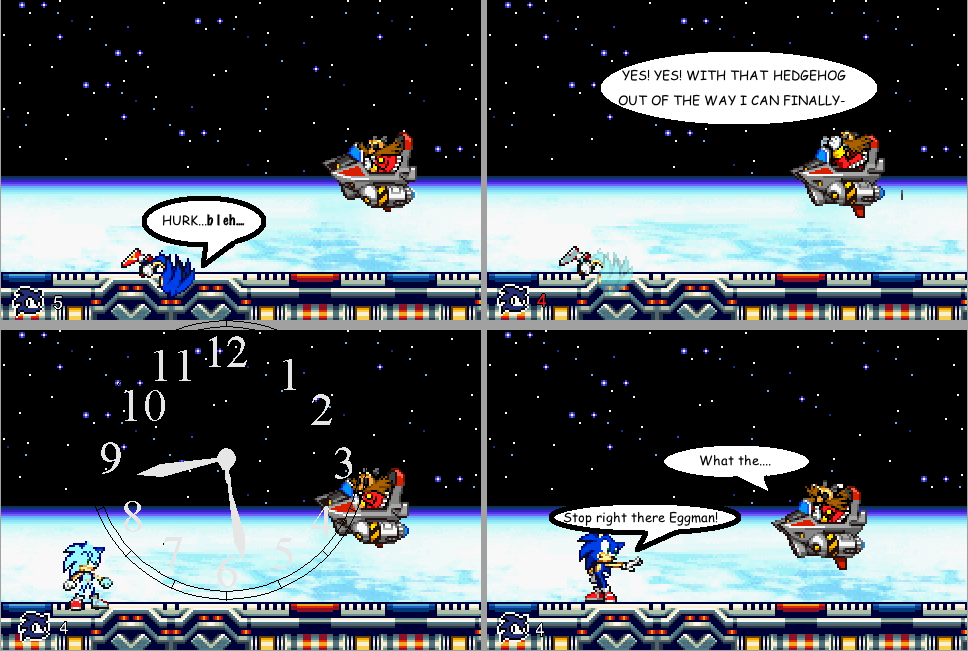 Isn't it odd that, no matter how many times Eggman kills him, Sonic always wins?
Anyway, yes, Checkpoint is back. Also, the Silver arc is cancelled. I was getting tired of it and I'm pretty sure everyone else was too. I will update the comic as much as possible now. See ya! Time Biter "The Rift" 16:22, September 4, 2012 (UTC)
Yep, I'm finally adding my FCs. I'm gonna try to make it so that they won't take away the focus from canon characters. These guys are the authors of Checkpoint Comics. Very original, right? ¬¬ Time Biter "The Rift" 00:24, September 11, 2012 (UTC)
The sad, sad, thruth. Time Biter "The Rift" 10:58, September 12, 2012 (UTC)
Why is the new guy called Codek? Stay tuned to find out. Actually, you may want to look away while Vey is having vocal chord surgery. Time Biter "The Rift" 00:59, September 24, 2012 (UTC)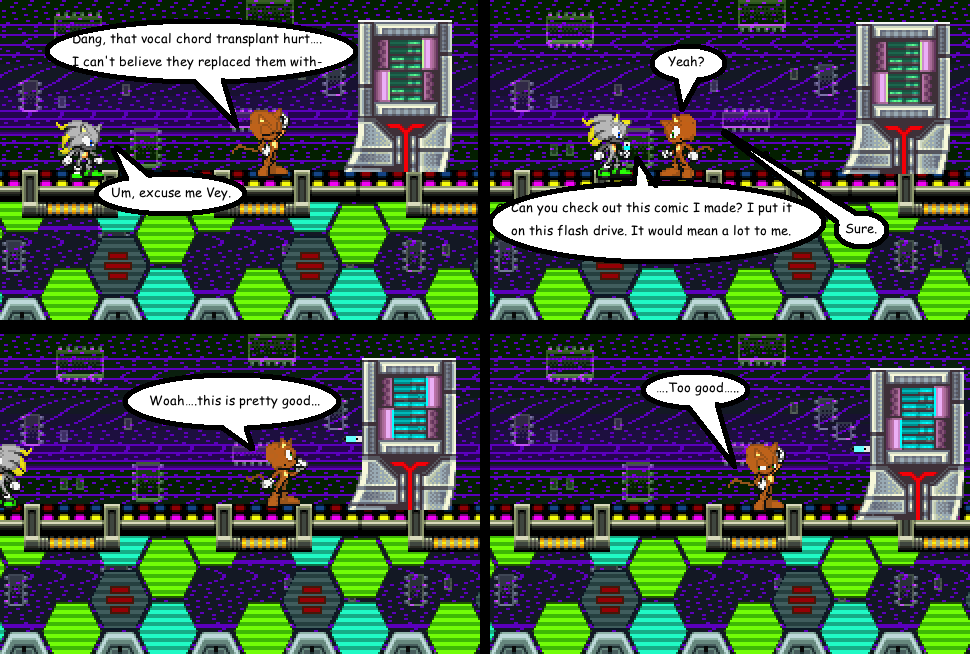 Vey has doubts that Codek made the comic. Isn't it wierd that the ones seen as complete idiots are usualy the suspicious ones. Anywho, the comic is gonna be more interactive. So, for this, I'm gonna let you chose the course of action for Vey.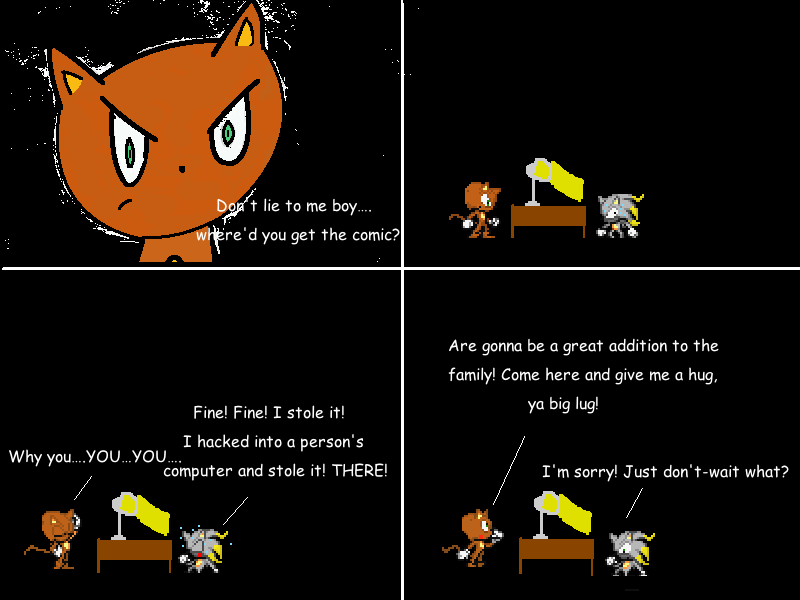 Sick'Em Vey-wait what? What would Vey want with a hacker? Time Biter "The Rift" 21:04, December 5, 2012 (UTC) -/Transmission start: [Is this thing on? It's on, alright]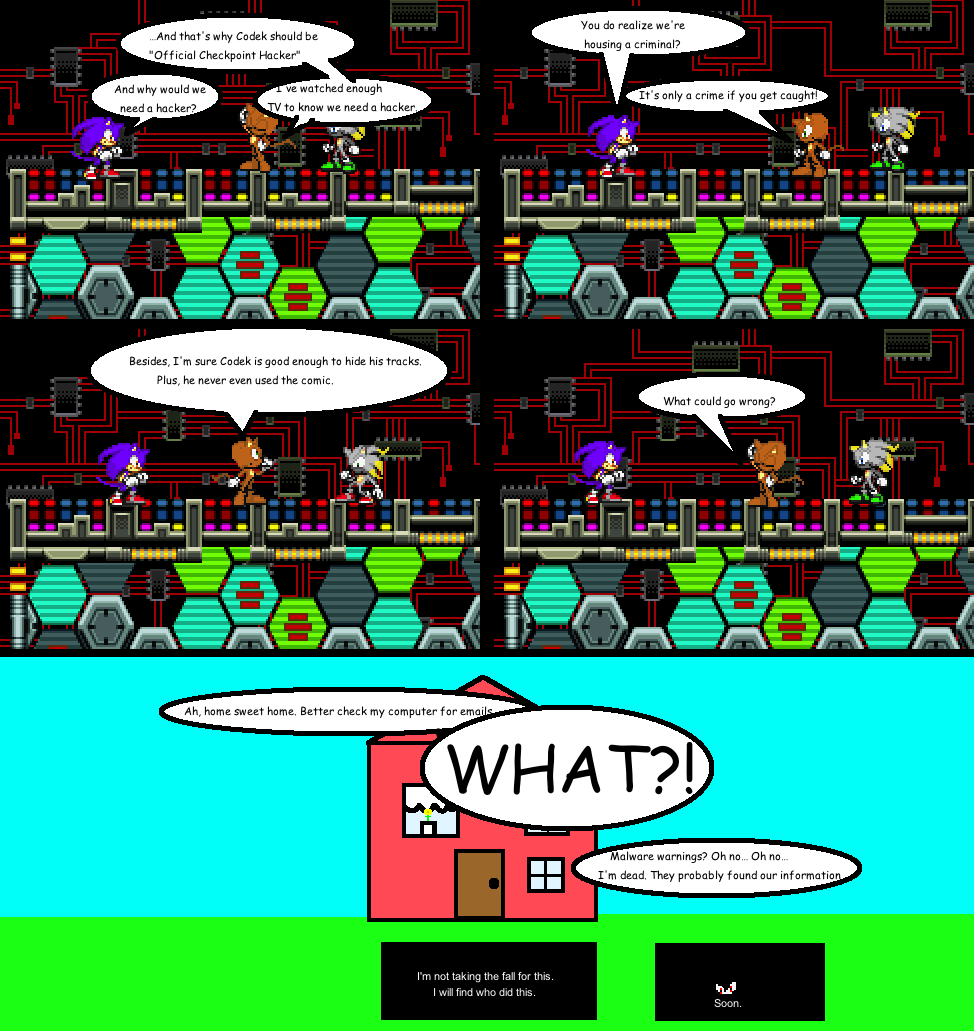 AND we're back with the end of this issue. September. SEPT. FRIGGIN'. TEMBER. That was when this started.
-/Transmission: New species of fruit discovered. Moving on.
Obviously, I need better updating. Which is what I've come to announce! On Thursdays, Fridays, and Saturdays, I will update. That's tri-weekly! Or at least I'll try.
Onto the comic: Codek isn't that good at covering up his tracks, is he? Who is this guy that had the awesome looking house? Must've had a nice designer.
See ya Thursday Time Biter "The Rift" 02:37, January 22, 2013 (UTC)