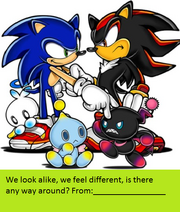 I'm back! My computer went down and I lost all my stuff, but I made a new series!
Twilight the Wolf presents...
SONIC CARDS!!
I took some random Sonic pictures and turned them into cards you can customize in a art program or print out.
I will make more, but I feel too lazy. Before you ask, I will only use art that SEGA or I made unless I get permisson to use it.