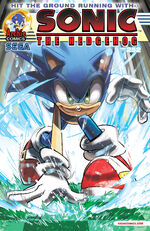 Well, folks, I know it is kinda late, but after all that has happened, this event cannot go by without a blog dedicated to it.
First of all, let me put it bluntly: the Shattered World Crisis story arc has come to an end! You heard it right folks! Perhaps the longest and most elaborate story arc in the Sonic the Hedgehog comic book series has now come to a conclusion after a three year run. From its prelude in Sonic the Hedgehog #252 to its conclusion in Sonic the Hedgehog #287, and all the side-stories in-between, this story arc was treated to us as a way to reintroduce Sonic's World after the world-rebooting event caused by Sonic & Mega Man: Worlds Collide (and by extension Ken Penders' lawsuit). To that there is only one thing to say: what a ride it has been! There has been revelations and mind-skews; changes and inconsistencies; confusions and familiarities; disappointments and improvements; introductions and reboots; reunions and tears; and most epic of all: a battle of Gods! There is much more than that I am sure, but I think you get it: this has been quite the experience.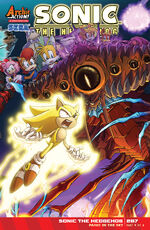 I could probably go on about how great this story arc has been, because there has been a lot of world building and introductions that can only make someone feel like you were reading the first issues of the comics, but I hate repeating myself. In the same regard, I am sure many others have opposing viewpoints on what the Shattered World Crisis has brought as well: some may hate the story for being so long, some may be dissatisfied with how the characters were portrayed, some may think that those plotpoints were pointless, and so forth. However, these people are entitled to their opinions, and that is acceptable. There is probably even more that think that this story is no excuse for what had been lost since the reboot. Nonetheless, I am sure that the comic staff has put a lot of effort into this storyline to please both newcomers and old fans of the comics despite the limited materials and restrictions they had been given, and give us fans a universe that would be a worthy successor of the old one. I thus believe it is only fair to set aside a few moments to thank Ian Flynn, Tracy Yardley, Aleah Baker, Adam Bryce Thomas, Diana Skelly and all the other staff members at Archie Comics for their efforts in bringing us the best storyline they could conceive to reintroduce us to a mainstay universe in Sonic's multiverse.
With the Shattered World Crisis behind us, it only leaves for us fans to look into the future. Just beyond the horizon, we can see what lies in store: a blast to the past with "Genesis of a Hero" and the Chaotix going pirate! Whatever they are gonna be about, I am sure they can only hit the funny bone, and the nostalgia bone. However, what lies beyond that is the question that is boggling everyone's mind. A giant roboticization bomb? A quest for a "Continental Sword"? A Sonic Lost World adaptation? Sonic and Sally finally getting back to dating? The answer is as uncertain as the wind. For better or worse, we will know soon enough, but I am sure it will be something worth of the Sonic community's interest.
This blog is dedicated to BlueSpeeder and his unrelenting passion for these kinds of things.