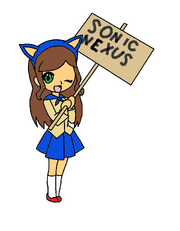 Well, I was bored and thought "if all the Sonic wikis are going to be merged as Sonic Nexus, why not make a mascot to represent us?" I know, I'm rando when I'm bored, but the more I thought about it, the more fun I thought it'd be. So, here's how it'll work:
Anyone can submit an entry, but submitting will end when submissions stop coming in.
We will NOT accept recolors, unfinished bsketches, or sprites. The pic doesn't have to be good because after the contest I'll draw an "official" pic of the mascot.
You can only submit one entry, but youre allowed to change your entry.
When you finish, upload the pic and give me a link or just put the pic in your comment. In that comment, please also tell the your inspiration behind the mascot and how they represent the Sonic wikis.
No old characters or characters you've already made. It needs to be new and original.
Now before people start asking stuff like in my last blog (shudders) here's how this'll work:
After all the entries for the mascot are finished, we'll vote on the best mascot. If there's a tie, there'll be a second vote between the ones who tied until one comes out on top.
Because the mascot has to represent all of Sonic Nexus, I'll be making blogs like this on the other wikis that are moving with us. They'll go through the same step above.
After all the winners are chosen, the mascots from each wiki will go head to head in one final vote. The number of votes from each wiki will be added to see who will become the sonic Nexus ultimate mascot!!!
So, what do you guys think?
When you design, just keep one thing in mind: The mascot needs to represent the Sonic fanbase in it's whole!