This talk page has Archives:
Re:
I understand, Dronsie. But know I'm just thiking the community dosen't get me and I should'nt even be here :P But, then again, I have to man up, since being a goddess or a mary-sue isn't any of my intentions. I just figure that why can't people view me normally? Krazy even told me that yesterday that Unleashed was ranting on how people think I'm too perfect. These people should really keep their hatred to themselves, since it's none of their business and nor am I affecting them anyhow. Toxish 09:43, April 8, 2014 (UTC)
Beats me. If I perhaps flaunted that I was perfect and degraded others, then maybe they could say this stuff, but I don't really get it. Just keep it to yourselves.
And yeah, it isn't about attention, it never was and never will be. Theres is a huge difference between having a good presence than demanding attention. And whether people complain about my fans and not me, they should still refrain from doing so, again. It's annoying them for no reason other than jealousy, which I don't want people to feel. Just keep a peaceful and subtle environment, I have nothing against anyone, so no one should have anything against me as long as I'm not rubbing anything into their faces. Whilst I know this is a great community and I have met fabulous people; all this unwanted drama aimed towards me is petty and pathetic, since I'm literally not involved in it. People are just using my name behind me.
Also, yeah, I'm keeping level-headed about the situation, you know -not flaming users who bug me about this- and I'm staying true to who I am. I guess that's what matters most, since I know there are a ton of users who honestly favour me, just like they way they do to others, nothing special, just the way it should be. I just wish it could entirely be like that. It isn't sadly, but like Mama Drones says, who cares?. Those are some enlightening words, Drones and I just want to thank you, sis :3 --Toxish 10:11, April 8, 2014 (UTC)
I think you mean my jerkface of a person who is unluckily my brother. Well i having serious problems with him and we even had a fight last night becasue of SNN, so I want to PM you sometime today --Butterdance (talk) 03:45, April 10, 2014 (UTC)
Best day on SNN
I just had the greatest conversation I've ever had on SNN. Damn Drones. Damn. Why weren't you there?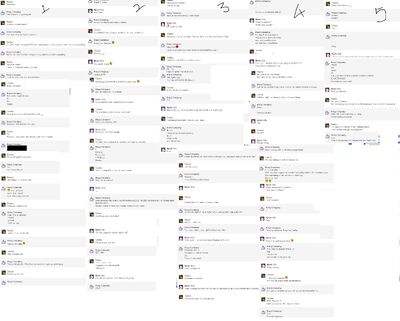 --
Krazy Company
(
talk
) 07:03, April 10, 2014 (UTC)
Right now. Butterdance (talk) 09:04, April 10, 2014 (UTC)
Yes. That is officially the greatest piece of sentence I have seen in my entire regretful life. Also, yeah. My mom had to write that for me. I got mixed with 3 and B and 4 and "*". --Krazy Company (talk) 10:06, April 10, 2014 (UTC)
I thought he deserved a month. But, I do admit it might have been too much. How about, three weeks? Two? BlueSpeeder - Feel The Shardom 14:22, April 12, 2014 (UTC)
I much rather preferred somewhere between two-three weeks, but two weeks it is. BlueSpeeder - Feel The Shardom 14:37, April 12, 2014 (UTC)
Sweet Mayma Jama
Dude. make this wonderful chick an admin already, she's devoted, and she cares, she's innovative, fresh, hardworking, kind, understanding and friendly. At the same time everybody loves her presence and she can really knock some sense to users and make them feel better and is involved. --Krazy Company (talk) 11:04, April 13, 2014 (UTC)
Oh yeah and click all those links before you make a move Krazy Company (talk) 11:17, April 13, 2014 (UTC)
Woah, that came out of the blue. Think you can get on the chat, boss? --Toxish 11:19, April 13, 2014 (UTC)
Could we wait just a wee bit longer? --Toxish 09:08, April 14, 2014 (UTC)
Well, due to negative reaction by Unleashed, I wont be going for adminship, sorry 'bout that, Dronsie. However, I am going for chatmod, so you can set that nomination up. Toxish 13:55, April 14, 2014 (UTC)
Indeed. Serious Sam
Heavy 15:16, April 14, 2014 (UTC)
Clarification: "My side of the story"
Hey Drones. I've been checking up on the discussion on Splash's talk page and I noticed some comments about me that I felt needed to be addressed:
"I feel very uncomfortable with Myself, as he constantly jokes without making me understand, and the jokes are usually towards me so I assumed he was harassing me until I found out a few days before the block that he was joking."
First off, I wouldn't say I make jokes constantly, I make jokes on occasion and I'm fairly certain that my jokes are taken lightly as no-one on chat ever complains or comments in a manner to suggest otherwise.
The topic of such jokes varies for time to time and may be directed to the topic at hand which, especially when Splash is on, can be the Pokémon series. None of the jokes I make are ever directed at Splash in a way that could be considered harassment, unless Splash is the Pokémon franchise, which I doubt he is.
Quite frankly, I wasn't even aware that Splash took great offence to the things I said until he said something about me purposely trying to annoy him about Pokémon, interestingly it would appear it was not long after this that Splash learned that I was only making jokes.
I don't know if Splash is purposely trying to discriminate me, or he genuinely believes that I would commit poor wiki conduct by wasting my time to harass someone on the internet I don't even know, but his side of the story, at the very least in relation to my actions, is gravely inaccurate and I couldn't stand by without clearing the air on this small matter. Myself 123 01:39, April 16, 2014 (UTC)
Let the games begin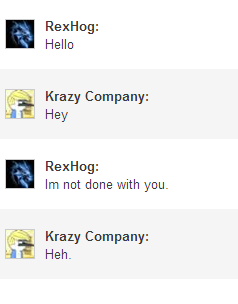 Im gonna have so much fun tonight
Krazy Company
(
talk
) 09:06, April 16, 2014 (UTC)
Drones. Chat. Now. Urgent. --Toxish 11:21, April 16, 2014 (UTC)
But, lad, I cannot chose a look. Toxish 12:22, April 16, 2014 (UTC)
Why? :/ -- Shadowunleashed13 - ContributionsDebug Mode 16:32, April 16, 2014 (UTC)
Good, it's just Splash's words concerned me and felt it only fair to speak up on my actions after Splash spoke about them. Myself 123 16:45, April 17, 2014 (UTC)
Chat. Krazy Company (talk) 07:20, April 19, 2014 (UTC)
Chat. Now. Krazy Company (talk) 12:05, April 19, 2014 (UTC)
Hello Drones, New evidence reveals Punkorama has been cursing and harassing people before on live chat and been blackmailing on wikis such as my home wiki. I don't want a ban as I was very angry when he tried to conivince my best wiki friend, Nightmare9188, that I am 11 not 14. I hope you know that I am 14 and that he is being immature. He also threatened to vandalize all the articles on the Tenkai Knights wiki. I was very angry with him for even coming close to my wiki. Sorry about it, but right now I am upset. He also was blocked on my home wiki by the creator, Nightmare9188. Somehow in the midst of it I got blocked for a day but that will be over this evening. Be careful around Punk though, He is becoming a cyber-bully.
               BravenwolfTFSFTW

Can I be un chat banned? BravenwolfTFSFTW