This talk page has Archives:
Done
Done. --Bullet Francisco (talk) Contributions Editcount 23:36, June 15, 2012 (UTC)
Can you make me sprites? I'm trying to make a comic series, and I only have three Speedy sprites! --★Mega
Speedy★ 23:25, June 20, 2012 (UTC)
Sprite Comic
Hi it's Rose Wolf! Could you do a sprite a comic with my chracter in?
♥♥Sonic Fan Forever♥♥ 16:59, June 21, 2012 (UTC)
Hi can you be my friend? Help me go to chat. Alisabeth 20:20, June 22, 2012 (UTC)
Happy birthday!
We all
have our own
styles we
won't change
20:22, June 28, 2012 (UTC)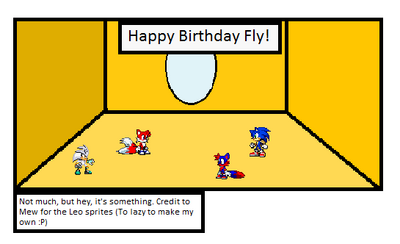 How about the name of the team be Team Furystorm? We all have our own styles we won't change 03:53, June 29, 2012 (UTC)
I watched the episode you recomended It wasn't awesome is wasn't horrible I like Spike due to him sounding like Omochao Rainbow Dash and Applejack I did like the part where Pinky is going "whee!"
I have black arms. 15:43, July 4, 2012 (UTC)
Can you come and edit the random wiki? Your rolplayer is a hit. - Jet50
can i have some really good emerl sprites? im srry if i already asked this. i just really need them emerl sprites. The sharpness of darkness. Shadowgallade777 (talk) 23:43, September 18, 2013 (UTC)
Stubs
Hey, Fly. I see you've been adding stub templates to a lot of articles recently. However, it looks like you've been adding the stub template to articles that aren't actually stubs. Stubs must be both very short (no more than one or two sentences) and be incomplete. Sometimes you've added the template to pages that have a few paragraphs, and sometimes to short pages that nevertheless sufficiently cover the topic. Neither of those should be classed as stubs. In fact, we've already got too many pages tagged as stubs as it is. It might be more useful to go through and un-tag the ones that are long or comprehensive enough. -- Supermorff (talk) 07:11, July 8, 2012 (UTC)
I find it odd that we both have the same avatar (well, almost).

Blaze and Rainbow Dash... They are awesome
18:20, July 13, 2012 (UTC)
And that we both like RD. Could be paradox

Blaze and Rainbow Dash... They are awesome
18:49, July 13, 2012 (UTC)
Yep. --

Blaze and Rainbow Dash... They are awesome
20:11, July 13, 2012 (UTC)
I wasn't overreacting. I was just saying what I thought, and decided that I needed a little break so I could take my shower and relax, since I felt like I was basically begging people to comment on it, and I don't want to become one of those people. I swear, people think you can tell the emotions of others through the use of what they type, and they always get it wrong when they try to use that tactic for me. And the main reason I was saying that is because someone could make one comic, and they'd get plenty of comments in less than a day. My comics have been around for almost 2 days, and I've made 4 of them. How many do I get? Less than I've ever gotten before. MetalMickey272 04:20, July 25, 2012 (UTC)
But there's the key words: sprite comics. I tried to bring something unique that no SNN user has done before, which is to bring a drawn comic series to the SNN. Which also urges me to beg for people to notice my comic, because I work long and hard to make the best drawn comics that could ever be on here. But the uniqueness and hilarity of my comics have been lying in the shadows of the newer sprite comics that have been made by users like Admiral and Murph, which almost makes me feel like my hard work is going to waste, which also gives me a stronger urge to beg. I do not want to become a beggar. MetalMickey272 04:31, July 25, 2012 (UTC)
Hi. I like Sonic and I would like to talk about it with others in the chat. Please let me in.
       From, Supercat


Hi Fly! I love your page!

Sonic and Tails are the Best
14:39, August 22, 2012 (UTC)
Hey Fly
Remember the Special Contributor with the number 72.191.49.218 well I'm "Pikatwig" now. So, I'm working on a birthday project for Ces, and I though I'd let you know that I wanna put you in it, is that okay with you please reply. Pikatwig (talk) 20:22, September 3, 2012 (UTC)

Hi Fly I'm allowed to talk in school now. Alisabeth (talk) 14:34, September 6, 2012 (UTC)

Hey Fly What's up? I go by knuckles by the way. Alisabeth (talk) 02:51, September 8, 2012 (UTC)
Why did you say "LOL" to me on Skype even though I told you I wasn't in the mood to be annoyed? Will RoseScout /=\"+ THIS. SIGNATURE. IS. FALSE. 06:07, February 12, 2013 (UTC)
Just a question
I don't really mind my chat ban anyways since I'm busy with my Reoi 10th Anniversary stuff, but just wondering about what do you mean by "antagonizing with users on chat"? Just asking. Pacmansonic138 (talk) 03:03, March 6, 2013 (UTC)
Hey, I nominated myself for chat mod! SilverPlays 97 11:42, March 17, 2013 (UTC)

I'm sorry, Fly. I shouldn't have used Caps. Please don't ban me. I won't do it again. --♥ User:Blaze Sol ♥ User_talk: Blaze Sol ♥ EMPERESS OF ICE AND SNOW! ♥ 02:45, March 18, 2013 (UTC)
The chat won't let me in, because it's saying that I don't have the right amount of edits, when I clearly do. What's going on? P.S. Tell Spyro to come on Knux wiki chat. (Ohmygod123 (talk) 01:04, March 19, 2013 (UTC))
hmm can you help me? when i click on join the chat on Live! Chat, nothing happens. also, how do i be awarded chaos emeralds? Shadowgallade777 (talk) 04:54, September 18, 2013 (UTC)
Re: Request

Ah. XD   ★EYCEST★R★    ★Contact★ 23:22, March 26, 2013 (UTC)
Blaze Sol
Link to discussion where you found out they were underage? -- Supermorff (talk) 07:10, May 7, 2013 (UTC)
The continuity templates were designed to look like they're part of the page weren't they? So wouldn't it make sense it they're at the top of the page? Myself 123 20:21, May 11, 2013 (UTC)
Why should they come first? Myself 123 20:34, May 11, 2013 (UTC)
Bubbler's Mother
If you've got the images, feel free to upload as different titles. -- Supermorff (talk) 07:47, May 12, 2013 (UTC)
RE: Apology
I apologise for my usage of vulgarity during the chat this afternoon in Australian time.OrbAdventures (talk) 11:49, May 13, 2013 (UTC)
the biggest and queen of all SonAmy fans (talk) 21:06, June 26, 2013 (UTC) You're profile picture looks pretty funny.
the biggest and queen of all SonAmy fans (talk) 21:08, June 26, 2013 (UTC) Meph's not really underaged. He's 13. Kay, you ge it now.
Congratulations!
Congratulations Fly; you have been voted Chat mod & Rollback of the Month! For this, you have been given a custom user boxes!

Keep it up! SilverPlays 97 14:54, July 1, 2013 (UTC)
I wasn't even causing any flamewars today. You just banned me for trying to work out some emotes and called it "spam" Wolf out! 23:16, August 26, 2013 (UTC)
hey im sorry!
Sonicstyle101

– "Watch My Report On Channel 42"




TALK

 

– 01:37, September 3, 2013 (UTC)

[im very sorry about what i did, and to some of the users, boy they must really hate me now, from the past weeks, my life has been an emotional wreck, and i took it out on you guys, which made you and the nice snn chat users hate me, do, im very sorry again, for saying about the school lockdown with the guy with the gun, that was not needed!, and i must say the bad side got the better of me again!!!, , and this time is will be different, no more bragging of the silly things that happen in my life, Tell me what they say, and can YOU forgive me, please reposnd ! P.S i still want talk about my games, if that is alright with you?!P.SS im so sorry please, repond back please]
Can you get me high def sprite pictures of emerl form sonic battle plz? im making a game that requires them. thnx!
Shadowgallade777 (talk) 04:39, September 18, 2013 (UTC)
for how long is this ban, and if I may ask, what was the specific "misconduct or argument" that I had to cause this ban?  Hoenn is my home. If you don't like it that's not my problem. 19:49, September 21, 2013 (UTC)
ok, now what about the specific misconduct or argument that I had to cause this ban?  Hoenn is my home. If you don't like it that's not my problem. 20:13, September 21, 2013 (UTC)
Lol idc if im banned or not. What i said on chat was the truth. (sorry if im sounding rude trying not to). User:SplashTheHedgehog/Signature3 20:26, September 21, 2013 (UTC)
ok, so, i'll ask again, what was the conversation that i had to cause the ban, i never got an answer  Hoenn is my home. If you don't like it that's not my problem. 18:09, September 22, 2013 (UTC)
Dude, no. Sonic is faster than Rainbow Dash, no power-ups. Sonic is 7 times faster than the speed of light if you really look into it. You were right about Rainbow Dash's speed. Besides, me and you both know you think Rainbow Dash would win because your a brony. I'm both, but I have my facts and opinions. I'm awesome, ain't I? (talk) 05:53, May 3, 2014 (UTC)