Re: Blaze's Art Contest
Hi Trak Nar. Thanks for putting an entry in my art contest. Have this. —Preceding unsigned comment added by Blaze Sol (talk • contribs)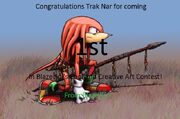 Re: Apology
Sorry, i'm kinda new to the wiki communityTentomon22 (talk) 04:39, January 12, 2013 (UTC)
I'm apologizing about my edit to Knuckles the Echidna. I didn't know that the quotes had to be game related. --Tentomon22 (talk) 16:49, January 12, 2013 (UTC)
I apologize for disobeying the rules earlier, I'm new here.NikkiKaji123 (talk) 07:15, January 16, 2013 (UTC)
Apologies.
Hey Traks. I had to elaborate your message to the user who had added fan-fiction to mainspaice articles. Hope.. you don't mind :/ --Quack 06:45, June 19, 2013 (UTC)
Man... your'e .. so.. cool. Anyways, yeah. Thanks, just had to mark it out, In case of any.. anything. --Quack 06:47, June 19, 2013 (UTC)
So sorry
Sorry about my mistakes with the articles for deletion template, I was unaware that some other template ever existed!  Well, anyways, I'll try my best to only do that when it's needed, and learn my templates better, cheers!
Averumsson (talk) 07:10, July 2, 2013 (UTC)
RE: Blanking pages
The reason I'm doing it is because I've found a new level 3 opponent, called BaronZylo and I'm blanking pages and she has to catch up with me, restoring them by reverting it. Sounds great, huh! Please, reply! ---Kaumi (talk) 07:16, August 18, 2013 (UTC)
Hey
Hey Trak, my name is Tentomon22. Nice to meet you. -- Tentomon22:"SUPER SHOCKER" 02:53, September 5, 2013 (UTC)
Congratulations!
Congratulations, Trak Nar, you have been voted Rollback of the Month! For this, you have been given a custom UserBox:

Keep it up! SilverPlays 97 14:43, March 1, 2014 (UTC)
Lapsing Rights
As you have not made a substantial amount of edits in four months, you will be demoted in two weeks unless you become active again. If you are demoted, you can come back and after editing a bit request me to give you your rights back. More information here: http://sonic.wikia.com/wiki/Sonic_News_Network:Administrators#Lapsing_rights --SpyroSonic2000 23:57, June 30, 2014 (UTC)
As it has been over two weeks since I told you about lapsing rights, I have demoted you from rollback. Please read the message above. SpyroSonic2000 17:49, July 19, 2014 (UTC)