Volcano Valley Zone
Talk

0
6,677pages on
this wiki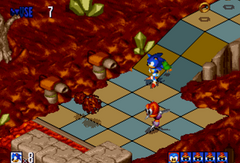 Volcano Valley Zone is the fifth zone of Sonic 3D for the Sega Mega Drive and Sega Saturn, coming after Diamond Dust and before Gene Gadget Zone.
Description
Edit
As with other stages in this game, Volcano Valley consists of two standard Acts followed by a third Act containing only the boss fight. In Acts 1 and 2, Sonic must free captured Flickies from inside badniks, depositing five of the birds into a Goal Ring to progress between sections of the level (usually three per Act). Curiously, one of the Flicky types in this level is fiery orange instead of pink.
Geographically, the Zone is located on the volcano of Flickies' Island.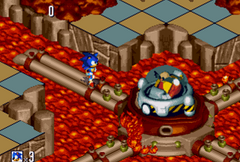 Like in Rusty Ruins, Robotnik docks the Egg-O-Matic with a fixed-position killing machine in this Zone. Sitting in the middle of a crisscross of pipes above the lava, Eggman directs homing ribbons of fire towards Sonic's position. The player has to dodge the hunter-seeker flames and run along the fuel pipes to hit the Egg-O-Matic at the center of the contraption. Much of the danger here comes not from Robotnik's weapons themselves, but from the lava that surrounds him. Put a foot wrong on those pipes and Sonic will find himself taking a hasty trip to the burn ward.
External Links
Edit