Wall Jump Panel
Talk

0
6,674pages on
this wiki
This article's name is conjectural.
Although this article is based on official information, the actual name of the article's subject is pure conjecture.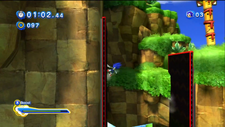 A Wall Jump Panel is a gimmick that is found in Sonic Generations. Whenever it appears, it indicates places where Sonic the Hedgehog can Wall Jump. It appears only in the side-scrolling sections in Act 2 of each stage. It also appears in Station Square.
Appearance
Edit
A wall jump panel is a black plate placed vertically on a wall. Its edges are outlined in red, and its sides have a pattern of orange arrows pointing away from the wall.
The only time Sonic is able to Wall Jump without a wall jump panel is a shortcut in the temple area of Seaside Hill Act 2.
This is the second time in a game that Sonic has been able to do a certain action in a certain area. (In Sonic Colors, Sonic can Quick Step only in specified areas)