You may be looking for Transformation Gate or Gate.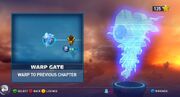 Warp Gates are gates in Sonic & All-Stars Racing Transformed which represent each world present in the World Tour mode of the game. They are basically teleports on the map of each chapter, allowing the player to switch between different chapters if the player has achieved all the missions of the respective chapter. Warp Gates are large holographic versions of the original gates that represent their chapters.
Gallery
Ad blocker interference detected!
Wikia is a free-to-use site that makes money from advertising. We have a modified experience for viewers using ad blockers

Wikia is not accessible if you've made further modifications. Remove the custom ad blocker rule(s) and the page will load as expected.