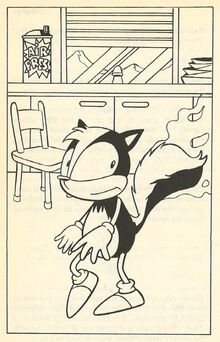 Whiffy is an anthropomorphic skunk from the Fantail Sonic Adventure Gamebook, Sonic v. Zonik.
History
He lives in a small hut on an island in the middle of the Aquatic Ruin Zone, in the jungle.[1] He used to live in the Green Hill Zone, but as a skunk he was not very popular so he moved. Sonic and Tails visited him while investigating the appearance of Zonik, Sonic's evil doppelgänger. Whiffy gave them a map to a speedboat they could use to get off the island, as well as a bottle of his scent.[2] Sonic and Tails could later use the bottle as a stink bomb to beat Zonik in the Mystic Cave Zone, allowing them to recover a Chaos Emerald.[3]
References
Ad blocker interference detected!
Wikia is a free-to-use site that makes money from advertising. We have a modified experience for viewers using ad blockers

Wikia is not accessible if you've made further modifications. Remove the custom ad blocker rule(s) and the page will load as expected.