This article is about the Badnik. For the alien species, see Wisp.
The Whisp (ブンブン, Bun-bun?) is an enemy from the Sonic the Hedgehog series that first appeared in Sonic the Hedgehog 2. They are fly-based Badnik models created by Dr. Eggman.
Appearance
Whisp resembles a flying insect, most likely a fly. Whisp has small, blue body with two wings connected above. The behind of the Badnik contains grey / yellow motor. It has six mechanical legs as three on each side. Whisp has two red compound eyes and yellow mouth. Whisps are seen flying around in the air and usually it will start following its target until it gets change to attack. It normally appears in small squads of about three Whisps.
Game appearances
Sonic the Hedgehog 2

The first appearance of Whisp Badniks is in Sonic the Hedgehog 2. These Badniks can only be found at routes above the water sections of Aquatic Ruin Zone where they fly around in swarms of three or five. They are usually positioned near jumps where the player has little protection from them. Whisps will start following and fly down to attack the player, but will not follow the player underwater. However Whisps can easily be destroyed one by one with Spin Jump or while charging a Spin Dash.
Sonic Pocket Adventure
Whisps make their latest appearance in the Sonic the Hedgehog Pocket Adventure, as these fly Badniks are featured at routes above the water of Aquatic Relix, which is almost identical to Aquatic Ruin Zone with its gimmicks and Badniks. In the game, Whisps appear now as singles instead of at groups with three of them. Despite its blue and white appearance, Whisps appear to have same attack pattern.
In other media
Sonic the Comic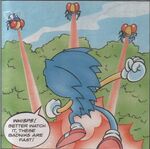 In the Sonic the Comic series published by Fleetway Editions, the Whisps are a part of Dr. Robotnik's Badnik army. They only appeared a few times during the comic's run. One time, they attacked Sonic when he tried to investigate the Aquatic Ruin Zone. Years later, many more would ambush the Freedom Fighters over Flickies' Island.
Trivia
Flybots in Sonic Underground bear close resemblance to Whisps.
Whisp's Japanese name, "Bun-bun", is the Japanese onomatopoeia for buzzing.
Gallery
Artworks
Screenshots
---
Main article | Gallery | Staff | Glitches (Knuckles in Sonic 2) | Prereleases (Nick Arcade | Simon Wai) | Re-releases (2006 | 2013) | Knuckles in Sonic 2
Characters
Sonic (Super Sonic, Glitch Sonic) | Tails (Super Tails**) | Knuckles (Super Knuckles) | Dr. Robotnik | Animals (Becky, Cucky, Flicky, Pocky, Pecky, Cucky, Ricky, Picky, Rocky, Locky, Wocky, Micky, Tocky)
Badniks
Aquis | Asteron | Balkiry | Banper* | BBat** | BFish* | Bubbler* | Bubbler's Mother* | Buzzer | Cactus* | Chop Chop | Clucker | Coconuts | Crawl | Crawlton | Flasher | Frog* | Gator* | Gohla | Grabber | Grounder | Jellygnite** | Lobster* | Masher | Nebula | Octus | Rexon | Shellcracker | Slicer | Snail* | Spiker | Spiny | Stegway** | Turtloids | Redz** | Whisp
Zones
Emerald Hill Zone | Chemical Plant Zone | Aquatic Ruin Zone | Casino Night Zone | Hill Top Zone | Mystic Cave Zone | Oil Ocean Zone | Metropolis Zone | Sky Chase Zone | Wing Fortress Zone | Death Egg Zone | Hidden Palace Zone** | Genocide City Zone* | Dust Hill Zone* | Rock World Zone* | Wood Zone* | Egg Gauntlet Zone** | Boss Attack Zone** | Proto Palace Zone** | Special Stage
Bosses
Drill Eggman | Water Eggman | Tonkachi Eggman | Catcher Eggman | Submarine Eggman | Drill Eggman II | Hidden Palace Zone boss** | Submarine Eggman II | Flying Eggman | Barrier Eggman | Mecha Sonic | Death Egg Robot
Moves/techniques
Climb | Glide | Insta-Shield** | Propeller Flying | Spin Jump | Super Dash Attack | Super Spin Attack
Items
Air Bubbles | Bomb | Booster | Bumper | Capsule | Continue | Fan | Flipper | Jump Panel | Metal nut | Monitor (Super Ring, Shield, Power Sneakers, Invincibility, Extra Life, Teleporter, Eggman, Lightning Shield**, Flame Shield**, Random, Water Shield**, S**) | Ring | Signpost | Spiked ball | Spring | Star Circle | Star Post | Switch
Other
Original Soundtrack | Bumper wall | Cannon | Chaos Emerald | Conveyor Belt | Corkscrew loop | Crusher | Death Egg Robot | Debug Mode | Egg Jet | Giant spear | Gondola | High-speed elevator | High-speed warp tube | Mega Mack | Perfect Bonus | Pinball Shooter | Seesaw | Shuttle loop | Slot machine | Spikes | Stone pillar | Time Attack | Tornado | Totem pole | West Side Island | Winding Tunnel

*Exclusive to the prototype versions of Sonic the Hedgehog 2.
** Exclusive to the 2013 re-release version.