Wii U
Talk

5
8,866pages on
this wiki
This article is about a subject in the real world.
Information in this article is about real-life people, companies and objects, and does not relate to the in-universe Sonic series.
The Wii U is a video game console developed by Nintendo and is the successor to the Wii. The Wii U GamePad is the primary controller for the Wii U. The Wii U is playable both on a standard television screen and on the Wii U GamePad.
The Wii U is Nintendo's first console to support high-definition graphics.[1]
The Wii U is also backward compatible with most Wii games. All Sonic the Hedgehog games released on the Wii are thus also playable on the Wii U. The Wii U also offers an online service, the Nintendo Network. There is also an official GameCube controller adapter in development for the Wii U.
There are two types of the Wii U: the Basic white (8GB) and Deluxe Black (32GB).
Controllers
Wii U GamePad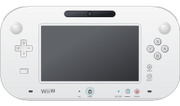 The Wii U GamePad is the primary controller for the Wii U. It features a built-in touchscreen, which can either supplement or replicate the gameplay shown on the main display, and can function as a standalone screen without the use of a television screen. The console is also be compatible with the Wii Remote Plus, Wii Nunchuk and Wii Balance Board, as well as a Wii U Pro Controller for more traditional controls.[2] Two GamePads are supported per console.
The Wii U also supports asymmetric competition, where the player using the GamePad has one experience and wins in a certain way, while competing players have different ways to play and win.
Wii U Pro Controller
The Wii U Pro Controller is the second controller released for the console, available separately. Like more traditional controllers, it features standard control sticks, buttons, and triggers. Many video game journalists have noted the similarity between the controller and Microsoft's Xbox 360 Controller.[3][4] However, Nintendo claims that the design of the Pro Controller is an "enhanced version" of the Wii Classic controller and "offers a richer experience".[5]
Amiibo
Beginning on November 21, 2014, the Wii U will support Amiibo, a series of figurines which uses Near field communication on selected software. A Sonic the Hedgehog Amiibo figure was unveiled on November 10, 2014 and it is slated to be released on February 2015. Amiibos will be available as a feature for the Nintendo 3DS in a future update and special adapter for the 3DS while the "New" Nintendo 3DS with be available using NFC that is Installed in the "new" 3DS. Currently, the Sonic the Hedgehog Amiibo can be used for Super Smash Bros. for Wii U. It is currently unknown if the Sonic the Hedgehog Amiibo will be used on other games.
List of Sonic Games on Wii U
Box Art Gallery
References