Wisp
Talk

40
6,677pages on
this wiki
Redirected from Wisps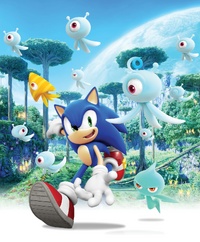 Wisps (ウィスプ, Uisupu?) are an alien race that appeared in Sonic Colors that were stolen from their home planet by Dr. Eggman (whom they refer to as Baldy Nosehair), to power his interstellar amusement park. They can give Sonic different special powers to help him in the game's levels; the type of power depends on the Wisp's color. Their Hyper-go-on energy can be used once Sonic collects a Wisp Capsule. When Sonic use a Color Power, a voice will tell the player which Wisp they are using by shouting things like, "Laser!", "Drill!", "Hover!" etc. Overall, the Wisps seem to be rather playful and friendly, spending most of their time with others and playing around. They are also rather similar, both in appearance and in motion, to underwater cephalopods such as squid.
Types of Wisps
Edit
| Image | Color | Ability | Description | Version | Turns Sonic Into |
| --- | --- | --- | --- | --- | --- |
| | White | White Boost | Fills up Sonic's boost gauge to make him faster, and able to draw in rings. White Wisps are the most abundant Wisps in the game. They are the friendliest, and enjoy talking and playing. They can be found inside capsules or inside Egg Pawns. | Wii and DS | N/A |
| | Yellow | Yellow Drill | Gives Sonic the ability to drill underground. If the wisp power runs out while drilling underground, Sonic will die. This Wisp can also give Sonic the ability to go through water like a torpedo. In Co-Op mode, when two are used together, the two players will attract rings. According to official Sonic Colors website, the Yellow wisps are very fond of earth and water.[1] | Wii and DS | |
| | Cyan | Cyan Laser | Turns Sonic into a powerful "Cyan Laser", which allows Sonic to move at lightning speed and attack enemies in a zigzag pattern. In this form, Sonic can reflect off mirrors to control his direction. In Co-Op mode, players can use two Cyan Lasers together to attack a long line of enemies. According to official Sonic Colors website, the Cyan wisps are a special breed. They never seem to stop moving and can be a bit scatterbrained as a result.[2] | Wii and DS | |
| | Blue | Blue Cube | Swaps blue rings and blue blocks, thus making routes that were previously inaccessible reachable. Also, nearby enemies can be destroyed when using this power and landing on the ground. According to the official Sonic Colors website, the Blue wisps have sharp minds and are very good leaders. Whenever they decide to do something big, they are almost always successful.[3] They also enjoy stacking each other, as shown in the intro video. | Wii-exclusive | |
| | Green | Green Hover | Turns Sonic into a round and spiky hovercraft to reach higher areas and allows use of a move similar to the light-speed dash. In Co-Op mode, players can use the same "connecting line" ability as the "Pink Spikes." According to official Sonic Colors website, "the Green wisps are subtle, yet pretty goofy. You never know when you might come across one."[4] | Wii-exclusive | |
| | Pink | Pink Spikes | Turns Sonic into a spikeball, allowing him to roll up walls and ceilings and allows use of a move similar to the spin dash. Unlike the other Wisps, where Sonic's other moves cannot be used while using their power, Sonic can double-jump when using this power, but he can't stomp or slide. He can also use the homing attack just as he does as when he's without any wisp powers. In Co-Op mode, players can use two Pink Spikes to create a connecting line to the other player and use it to knockout enemies when they come in contact with the line. According to official Sonic Colors website, "the Pink wisps can be somewhat harsh, but they are in fact very kind by nature. You'll often find them near walls."[5] They also seem to enjoy throwing themselves into walls at high speeds, due to one being thrown like so in the intro video. | Wii-exclusive | |
| | Purple | Purple Frenzy | This power lets Sonic turn into a Berserker Chomper. While using this power, Sonic will eat anything in his way and at the same time, grow larger after each consumption. Added to this, as Sonic grows in size using this Wisp, Rings are attracted to him from a greater and greater radius as he grows. According to official Sonic Colors website, the Purple wisps are Wisps who were captured, transformed and turned violent by Dr. Eggman and are forced to do his bidding.[6] | Wii-exclusive | |
| | Violet | Violet Void | Turns Sonic into a black hole that will suck in enemies, some objects, and rings. Sonic will also grow bigger with each enemy. According to official Sonic Colors website, the Violet Wisps are Wisps who were captured and transformed by Dr. Eggman to do his bidding. When someone approaches them, they threaten them by biting and barking.[7] | DS-exclusive | |
| | Orange | Orange Rocket | Grants Sonic the power of a rocket. He blasts into the air (something that you can charge, but it will wear off if you hold it for too long), like a rocket in an explosion of color, reaching unparalleled heights at staggering speed. He can then be controlled while falling, or fall faster (something you can also do in Sonic Unleashed.) In Co-Op mode, when two rockets are used together, the players move similar to "the Drill" by swirling around each other. According to official Sonic Colors website, the Orange wisps are very sensitive and emotional. They are easily made happy when praised and saddened if they make a mistake. Be careful not to upset them, they anger very easily as well.[8] | Wii, and DS | |
| | Red | Red Burst | Turns Sonic into a living fireball, allowing him to perform mid-air jumps & cause chargeable explosions. According to official Sonic Colors website, the Red wisps are lively, but a bit scatterbrained.[9] | DS-Exclusive | |
DS and Wii versions
Edit
The power of the Wisps vary between the DS and the Wii versions of Sonic Colors, with the Wii version having eight Wisps and the DS version having six. The Wii exclusive wisps are Frenzy, Spikes, Cube and Hover, while the DS exclusives are Void and Burst.

Yacker is a specific White Wisp, who is different from all of the other Wisps. Unlike other White Wisps, he has a blue curl on his head between his antennae. Yacker plays a major part in the storyline of Sonic Colors by befriending Sonic and Tails. He cannot speak English, but makes an audible chattering noise and can understand English very well. He could only be understood by Sonic and Tails through the Miles Electric. In the DS version, the Mother-Wisp is his mother.
In Co-Op mode, if both players with the same Wisp use their Color Powers at the same time, a special move occurs. For example, when two Pink Spikes are used, a laser beam will appear between the two players that destroys any Badniks that touch it. The Green Hover has a similar effect.
Another example is that when two Yellow Drills are used, the players will spin around each other, the resultant Drill is magnified in power, and the players will gain a magnetic effect that attracts rings, similar to the Lightning Shield in previous Sonic games. The Cyan Laser and Orange Rocket have similar effects in which the reach of the power-ups are doubled.
Sonic GenerationsEdit
In Sonic Generations, Wisps appear in the stage Planet Wisp, which is the last stage. On the Xbox 360/PS3/PC versions, the only playable Wisps are the Rocket Wisp (Modern) and Spike Wisp (Classic). The Rocket Wisp requires the player to hold The "Y" button or the "Triangle" button to charge it up and send it rocketing higher. The Spike Wisp is used pressing and holding "X" or "Square" to charge up the Spin Dash. In the 3DS version, the only Wisps that are playable are the Laser Wisp in Modern Tropical Resort and the Burst Wisp in it's Classic counterpart. Both Wisps are used in almost the exact same way as they were in the original DS version.
Screenshots
Edit
Nintendo DS
Edit
In the Wii version, the Wisps are only referred to by their true name in the Hint Rings and once by Tails in a cutscene: everyone else simply refers to them as aliens.
The Red and the Violet Wisps are not shown in the announcement trailer. This is most likely due to the fact that those two Wisps are only exclusive to the DS version.
Wisps and Flickies are both released from capsules.
On the cover of the Wii version of Sonic Colors, the Blue, Green, Purple, and Pink Wisps are shown. On the DS cover they are replaced with the version exclusive Red Wisp and Violet Wisp.
Despite being only exclusive to the Wii version, the Blue, Green and Pink Wisps appear in a few cutscenes from the DS version and in the final cutscene in the Wii version Red Wisps and Violet Wisps are seen.
Once Sonic transforms into the Purple Frenzy, he is able to attract rings.
According to Cubot, the Wisps "smell good", despite the fact that he's a robot
The Purple Wisp is the only Wisp that doesn't appear in the Sonic Simulator.
Since White Wisps spawn from badniks occasionally, it can be assumed that the White Wisps captured by Eggman were used to as a power source for some of these enemy robots.
The Violet Wisp is not present in the Sonic Colors comic adaptation in Archie Sonic the Hedgehog Issue 219, but the Purple Wisp is.
According to Doctor Eggman in a deleted voice clip, the Wisps' Hyper-Go-On power is even more powerful than the Chaos Energy. As Chaos Energy and Hyper-Go-On have never been compared, this has never been confirmed.
The Orange Rocket bears some resemblance to NiGHTS' rocket persona power, except that it will only blast Sonic upwards while the rocket persona allows NiGHTS to move around freely.
The Red Burst bears some resemblance to the fiery head in the Sonic Battle logo.
In Sonic Colors, certain Wisps allow Sonic to use past abilities that he was able to do in past games on his own. For example, the Green Wisp allows Sonic to do the Light Speed Dash, and the Pink Wisp allows Sonic to perform the Spin Dash.
The Wisps reappeared in Sonic Generations in the Planet Wisp stage, but only the Orange and Pink Wisps are usable in PS3/Xbox/PC Version, while the 3DS uses Tropical Resort and the Cyan Laser and Red Burst. Also, in the PS3/Xbox/PC version, White Wisps make cameos at the beginning of both Classic and Modern Planet Wisp.
The Blue Cube is similar to the P-switch from the Mario Series, as both change collectibles (rings or coins) into walkable surfaces (cubes or used blocks) and vice-versa.
The only time they talk English is in the cutscene "A New Sonic Legend Begins" when Yacker is telling other Wisps about Sonic (DS version only). However, this might be in wisp language translated into English for the player, as Tails is not there.
The Purple and Violet Wisps are the only Wisps without eyes.
When Sonic use Cyan Wips,there's a cube flare around Sonic (like in opening game & after used) its resemblance to Hatsune Miku:Project DIVA series trademark and the color is the same like Miku signature color.
References
Edit
External links
Edit