This article is about a subject in the real world.
Information in this article is about real-life people, companies, and objects, and does not relate to the in-universe Sonic series.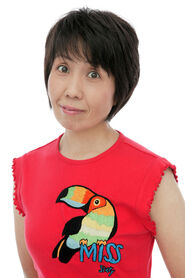 Yōko Teppōzuka (鉄炮塚 葉子, Teppōzuka Yōko?) is the Japanese voice actress who has done work for the Sonic the Hedgehog series and its spin-offs.
Filmography
Acchi in Three Little Ghosts
Ai in Neo Geo Battle Coliseum
Angel in Go! Go! Ackman
Chachazero in Mahō Sensei Negima
Charmy Bee in the Sonic the Hedgehog games (Sonic Heroes (2003)-present) and Sonic X
Dameo in Marude Dameo
Guske's Little Brother in Doraemon: Nobita's Winged Heroes
Karan in Inuyasha
Maria Renard in Castlevania: Rondo of Blood
Marionette-Chan in Soreike! Anpanman: Soratobu Ehon to Garasu no Kutsu
Phillip in Detective Conan: Conan and Kid and Crystal Mother
Shie in Mars Daybreak
Tetsu in Clockwork Fighters Hiwou's War
Yamashita in Atashin'chi
Yuel in Summon Night 2 and Summon Night 4
Yuko Asashina in Tokimeki Memorial
Yuuta Kyuji in Chiisana Kyojin Microman
Credits
Voice acting
Ad blocker interference detected!
Wikia is a free-to-use site that makes money from advertising. We have a modified experience for viewers using ad blockers

Wikia is not accessible if you've made further modifications. Remove the custom ad blocker rule(s) and the page will load as expected.