This article is about a subject in the real world.
Information in this article is about real-life people, companies, and objects, and does not relate to the in-universe Sonic series.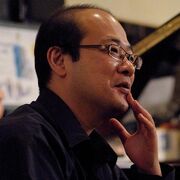 Yutaka Minobe (蓑部雄崇, Minobe Yutaka?, born October 7, 1972 in Yokohama, Japan) is a composer who works at Delfisound inc. He used to work at Sega but left in 2005, though he still has close connections to Sega. He has composed music for Sonic games such as Sonic Heroes, Shadow the Hedgehog and notably Sonic and the Black Knight.
External links
Ad blocker interference detected!
Wikia is a free-to-use site that makes money from advertising. We have a modified experience for viewers using ad blockers

Wikia is not accessible if you've made further modifications. Remove the custom ad blocker rule(s) and the page will load as expected.