ZERO

ZERO
Appearances
First appearance
Game
appearances
Appearances
in other media
Biographical overview
Creator
Birthplace
Nickname

Dr. Eggman's Guard Robot
Tin Can
Bolt Brain (by Amy, once)
Chunk of cheesy hardware (by Sonic once)

Physical description
Gender

None

Color scheme

Green

Eyes

Red

Powers and abilities
Skills

Dowsing
Enhanced jump
Super strength
Waterproof
ZERO, also known as E-100α[1] or E-100 Alpha (E-100 "アルファ", E - 100 "Arufa"?)[2] is character in the Sonic the Hedgehog series who first appeared in Sonic Adventure. It is the prototype model for Dr. Eggman's E-100 series of robots, which has earned it the designation as the zeroth E-100 unit.[2] During its last mission to recover Chaos Emeralds, ZERO relentlessly pursued Amy Rose for the Chaos Emerald she unknowingly had until it had the bad luck to be on the receiving end of Amy's hammer.
Appearance
Unlike the E-100 Series robots, it does not have "E-100" on its body, but instead it has "E" on both sides of its body. Also, the headlight on ZERO is on its shoulder, in contrast to the E-100 Series robots in which it is on their mid-section.
History
In Sonic Adventure, ZERO made its debut by chasing a blue Flicky in the possession of a Chaos Emerald that has taken refuge with Amy Rose. ZERO chased Amy around Station Square, Twinkle Park, the Egg Carrier, Hot Shelter, and finally, the Final Egg base in the Mystic Ruins.
When it went back to the Egg Carrier, it saw Amy and the Flicky with the bird's relatives, who were inside E-101 Beta and E-102 Gamma. ZERO then attacked and knocked out the small Flicky with an extending punch. Amy, thinking that ZERO had killed her companion, became furious and attacked ZERO - finally destroying it by knocking it into an electric fence, scrambling its circuits, before smashing the vulnerable circuitry in its head with her hammer, causing him to explode.
Other game appearanes
Sonic Advance 2
ZERO makes a brief appearance in Sonic Advance 2, chasing the player around the Special Stages of the game. In this appearance, it is known as the Robot Guard (ガードロボ, Gādorobo?, lit. "Guard Robo"), but otherwise looks identical to its previous appearance. If it hits the player, they lose ten rings.
Sonic Rivals 2
ZERO appeared in Sonic Rivals 2 as collectible card No. 81. It was unlocked by obtaining the high score in Zone 6 Act 3.
Personality
ZERO pursues its target with a single-minded tenacity, even after the Flicky's Chaos Emerald had been removed. This also made it possible to trick it, as Amy could hide beneath barrels or around obstacles to elude it. When pushed to the brink however, it becomes much more aggressive.
Powers and abilities
ZERO differed greatly from the other E-100 robots as it lacked a projectile weapon of any sort, mainly relying on its extending fists to attack its foes. It possessed impressive strength, able to smash through walls in pursuit of Amy and generate shockwaves by punching the ground. It also had strong defensive strength, as Amy could only inflict damage by electrocuting it. It also seems to possess an "overdrive" mode after taking a certain amount of damage, where steam begins bellowing from its smokestack-like head, rendering it invulnerable to any sort of blow from the Piko Piko Hammer.
Battle
Boss guide
Amy ends her adventure by battling Zero on the Egg Carrier's deck. It's easier than running from Zero through the Adventure Stages; all Amy has to do is knock Zero against the electric ropes that encircle the ring. When Amy swats Zero into the hot wires, its body gets an unhealthy jolt, and the top of its green noggin flips back to reveal a big, blue button. Hit that button four times, and Zero goes boom. Hammer Zero into the electrical ropes, and it crackles with an overload of juice. When Zero flips its lid, jump up and Hammer the blue button under it. Zero attacks with shock waves; keep some distance between Zero and Amy to hop over them. When Zero's almost finished, it sends an electric "jump rope" after Amy, which she must skip to survive. Run along in the same direction that the rope is turning as you jump to easily avoid it.
Videos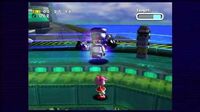 Apperances in other media
Archie Comics
Sonic X
ZERO also appeared in the anime series Sonic X, in the Chaos Saga. His role in the series mirrors to that in Sonic Adventure.
Trivia
Alpha is the first letter of the Greek alphabet. Similarly, Zero (AKA Alpha) is technically the direct predecessor of the E-100 Series robots.
ZERO is not powered by an Animal like its immediate successors, as nothing is seen escaping from its body after its destruction.
Although it is not called an E-Series robot in the games, it was given a similar codename on the Sonic Adventure website accessed via Dreamcast.

Despite this, Eggman apparently does not consider ZERO to be a part of the E-100 Series, as he calls E-102 Gamma his second model.

ZERO, E-105 Zeta (the second form), E-121 Phi and E-123 Omega are the only earlier E-Series robots that do not follow the same basic design as E-101 Beta.
As a villain, ZERO has traits common to the Strong Silent Types of "slasher" movies in that it is big, slow, strong, and cannot be hurt or killed under normal circumstances.
On the early Japanese Sonic Adventure website, ZERO is dubbed the "Prototype of the Eggrobo E-Series" (

エッグロボEシリーズの試作機

?

).[1] It is uncertain if this is supposed to be meaning behind the "E" in E-Series, if it was actually intended to be a throwback to Eggrobo, or if this was outdated information by the game's final release.
ZERO is sometimes known among fans as "The Chase Master" due to the name of its song on the soundtrack.
Gallery
References
---
Main article | Gallery | Beta Elements | Re-releases (DX | 2010)
Characters
Sonic (Super Sonic) | Tails | Knuckles | Amy | E-102 Gamma | Big | Eggman | Chaos | Froggy | Tikal | Pachacamac | Chao | Metal Sonic* | Cream* | Unnamed Sonic robot* | Chao
Enemies
Baby Kiki | Rhinotank | Sweeper | Leon | Boa-Boa | Spinner | Ice Ball | Kart Kiki | Buyoon | Cop Speeder | Spiky Spinner | Electro Spinner | Ghora | Egg Keeper | Beat | Mecha Fish | Egg Pirate
E-100 Series
Beta (Mark II) | Gamma | Delta | Epsilon | ZERO | Zeta
Locations
Adventure Fields
Egg Carrier | Mystic Ruins | Station Square
Chao Gardens
Station Square Garden | Mystic Ruins Garden | Egg Carrier Island
Misc.
Angel Island | Black Market | Chao Stadium | Shrine of Knuckles's race | Tails' Lab
Action Stages
Emerald Coast | Windy Valley | Casinopolis | IceCap | Sky Chase | Twinkle Park | Speed Highway | Red Mountain | Sky Deck | Lost World | Hot Shelter | Sand Hill | Twinkle Circuit | Final Egg
Bosses
Chaos 0 | Chaos 2 | Chaos 4 | Chaos 6 | E-101 Beta | E-101 Mark II | E-102 Gamma | E-103 Delta | E-104 Epsilon | E-105 Zeta | Egg Carrier | Egg Hornet | Egg Viper | Egg Walker | Perfect Chaos | ZERO
Moves/techniques
Bolt of lightning | Climb | Dig | Flight Mode | Propeller Flight | Glide | Hammer Attack | Hammer Jump | Hover | Homing Attack | Homing Missile Launch | Jump Attack | Laser Gun | Light Speed Attack | Light Speed Dash | Lure Attack | Maximum Heat Knuckles Attack | Pick | Punch Attack | Rapid Tails Attack | Spin Hammer Attack | Spin Dash | Spin Jump | Tails Attack

Level Up Items

Ancient Light | Crystal Ring | Fighting Gloves | Jet Anklet | Jet Booster | Laser Blaster | Life Belt | Light Speed Shoes | Long Hammer | Lure | Power Rod | Rhythm Badge | Shovel Claw | Warrior Feather
English voice actors
Ryan Drummond (Sonic) | Corey Bringas (Tails) | Michael McGaharn (Knuckles) | Deem Bristow (Eggman) | Jennifer Douillard (Amy) | Jon St. John (Big) | Elara Distler (Tikal, Station Square Train Voice, Default Menu Voice) | Steve Broadie (Gamma, Pachacamac, Mystic Ruins Train Voice) | Tomoko Sasaki (Chao)
Japanese voice actors
Jun'ichi Kanemaru (Sonic) | Kazuki Hayashi (Tails) | Nobutoshi Kanna (Knuckles) | Chikao Ōtsuka (Eggman) | Taeko Kawata (Amy) | Shun Yashiro (Big) | Kaori Asō (Tikal) | Jōji Nakata (Gamma) | Tōru Ōkawa (Pachacamac) | Kaho Kōda (Station Square Train Voice) | Nobutoshi Kanna (Mystic Ruins Train Voice) | Elara Distler (Default Menu Voice) | Tomoko Sasaki (Chao)

Original Soundtrack

/

Remix

/

Vocal Mini Album

/

20th Anniversary

/

Passion & Pride

Believe In Myself | It Doesn't Matter | Lazy Days | My Sweet Passion | Open Your Heart | Unknown from M.E.

Other
777 Slots Pinball | Air Bubbles | Auto Running | Balloon | Bumper | Bumper Car | Cannon | Capsule | Card & Pinball | Chao Egg | Chaos Emerald | Chao in Space | Chao Machine | Conveyor Belt | Corkscrew loop | Crank | Dash Panel | Dash Ring | Debug Mode | Egg Carrier 2 | Emblem | Emerald Radar | Emerald Shard | Employee ID Card | Fan | Flipper | Hanging Bell | Hedgehog Hammer | Helicopter | Hint Box | Item Box (Bomb, Extra Life, Invincibility, Lightning Shield, Power Sneakers, Shield, Super Ring) | Jump Panel | Key Stone (Gold Statue, Ice Stone, Silver Statue, Wind Stone) | Lit Panel | Metal barrel | Mission Mode | Monkey Destruction Switch | Mr. Know-It-All | Pinball Shooter | Power cube | Ramp | Ring | Rocket | Sandboard | Shrine of Knuckles's race | Shuttle loop | Sky-Chase Dragon | Slot Machine | Snowboard | Sonic Token | Station Square Police Department | Switch | Target Doll | Teleporter | Tornado | Tornado 2 | Trick Jump Panel | Wide Spring | Wind Path | Zip Line

*Exclusive to Sonic Adventure DX: Director's Cut.
Sonic the Hedgehog characters